9 Mazévo Tools to Improve Staff Communication
16 December, 2020
As any event planner knows, there are plenty of details that must be managed to execute a great event. If you have a busy facility with loads of events happening every day, you know that keeping everyone on the same page is no easy task. New events, updates, changes approvals - the list is endless. Today I wanted to highlight some of the tools in Mazévo that will keep you and your staff in sync when it comes to planning and hosting events.
Event Alerts

Let's start with event alerts. When you open an event in Mazévo, you can view all details associated with the event. If the event is involved with lots of information and multiple staff members interacting with the event, drawing attention to an essential event element can be difficult. This is where Event Alerts can help. Mazévo Event Alerts will automatically display anytime one of your staff opens an event. The alert appears as a bright bar at the top of the even that they can't miss. Think of it like a yellow sticky note attached to the event for all to see, drawing attention to vital details.
Event History
Keeping a complete account of changes and updates to events is critical, especially when dealing with a large event. Did you remember to make the change to attendance the customer requested? No need to second guess yourself, Mazévo's booking history will tell you if you made the change and when you made it.
Email History
Mazévo will also keep a complete history of confirmations and invoices sent for an event. The next time a customer tells you that they didn't receive their invoice, you can quickly check to see when you sent it and even the email address you used.
Event Notes
Do you ever need to make sure you remember details about a meaningful conversation related to an event? These may be essential bits of information from a conversation you have about the client's preferences that are not directly related to the event but are still important. Having a place to file the details with the event is key to finding them again. In Mazévo, Event Notes are a place to record information about an event that you or other event planning staff can view. These notes are never seen by the customer or displayed on operations reports making them only available for internal purposes.
Tasks
Ensuring that everything gets done so that the event is a hit with your customer is the purpose of a good to-do list. In Mazévo, to-do items, called "Tasks," can be part of every event. You can assign tasks to individual members of your team and track accomplishment. If you have to-do items that are regularly needed, Mazévo will automatically create these tasks when you schedule the event. One less thing for you to remember.
Messaging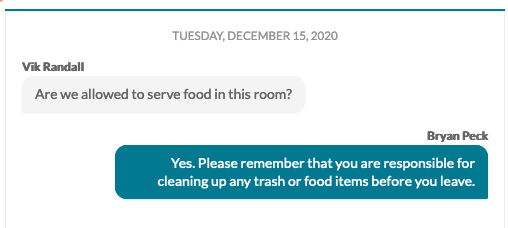 With Mazévo Messaging, you can send messages directly to your customer's phone where they can correspond with you in real-time about their event. You can also send messages to other event planners about specific events. Your correspondence is saved with the event and available for all event planning staff to see in both cases. See this blog article for more details about Mazévo Messaging.
Secondary Approvals

Often a large event will require the oversight of different service departments within your organization. With Secondary Approvals, Mazévo provides you a way to automatically alert and gather approval feedback from these departments. You can then monitor the approvals status, so you know precisely which approvals are complete and which you are still waiting on.

Day At A Glance
Mazévo's Day At A Glance provides a one-stop-shop for all the event-related tasks and activities that require the attention of you and your staff. Monitor incoming room requests, events requiring secondary approval, your event task list, incoming messages, and upcoming bookings, all from a single screen.
Operations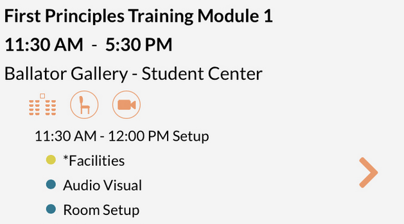 Being able to communicate easily with your Operations staff is critical to event success. With Mazévo's built-in operations tools, your Operations staff can access real-time information from their phone or tablet device. They can also indicate progress on event setups and note any maintenance issues they encounter that require further review.
Hosting great events requires hard work and dedication from each person on your team. But even hard work will not make up for lack of communication. Mazévo's communication tools will make sure that your staff knows what is necessary for a fantastic event.
To learn more about Mazévo's event tools, contact us for a personalized demonstration for your event services operation today!