As someone who has spent their career scheduling and managing events, you know the success of your functions begins well before the first attendees show up. The planning, coordination, and communication is an ongoing process to make sure things run flawlessly.
As the volume of events that you manage grows, it becomes more challenging to stay on top of everything so that no one drops the ball.
This is especially true when it comes to your operations team. They are on the front lines of delivering the service and experience your customers expect. With complex event setup needs and changing requirements, is your staff still using paper reports that are outdated as soon as they are off the printer?
In today's fast-paced world, its time for a better way for you to communicate event needs to your team no matter where they are.
Introducing Mazévo Ops.
Mazévo Ops provides all the tools you need to review event services like room setups, AV and catering, get notified of changes, deliver setup requirements to your staff, and monitor service delivery from any desktop computer, tablet, or phone.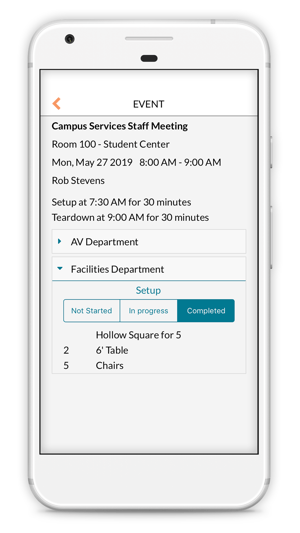 With Mazévo Ops, you can finally get rid of all the paper and replace it with a simple to use electronic system that provides you with all your event services details. Now you and other event services managers can review all upcoming events electronically. Once a function has been looked at, it will eliminate the notification emails you receive every time the event's needs change. With Mazévo Ops, you can "pull" information about service changes when you need instead of sifting through your crowded email inbox, looking for the latest details.
Mazévo ops will also allow you to deliver service information directly to your staff that sets up the events. Instead of relying on paper reports, they can pull up this information directly from their tablet or phone. If you have multiple service providers at your organization like a facilities team, AV team, or a catering team, Mazévo Ops will allow staff members for each service provider to view only events that require their services. You can even assign work to specific team members when needed.
Finally, you can review the status of service deliveries through Mazévo Ops. A manager can quickly see the status of each service delivery or setup. They no longer have to track down individual staff members to see if a setup is completed, they can access real-time information through Mazévo.
How Mazévo Ops Works
Once a system administrator has granted access to Mazévo Ops, you can access the Review Services, All Work and Manage Operations tools.
Review Services
This tool can be accessed from either the desktop or mobile device and is for those on your staff who need to review events and required services. This includes your Events Director, Facilities Supervisor, Catering Manager, or anyone else who oversees the services provided by your organization. Each individual can review upcoming events and mark them as reviewed when completed.
Once an event is marked as reviewed by the individual, Mazévo will alert them to any changes by automatically indicating the event as changed. Details that are changed get highlighted for quick reference. Marking the event as reviewed again will dismiss the alert.

A view of upcoming events showing which events are changed and which ones still need review
All Work
This is a tool for your team members who will be delivering event services or doing setups. They will access this from a mobile device (phone or tablet) by way of the Mazévo Mobile App. From here, they can see upcoming events with services, including detailed notes, and can even access event room diagrams right from their device! If you wish to assign specific activities to individuals on the team, this is where they will see what's assigned to them.
Once work has started on a particular service, your operations staff member can mark the service as "In Progress" or "Completed." If they need to record something about the service they did, they also have a notes field to enter this information within the app.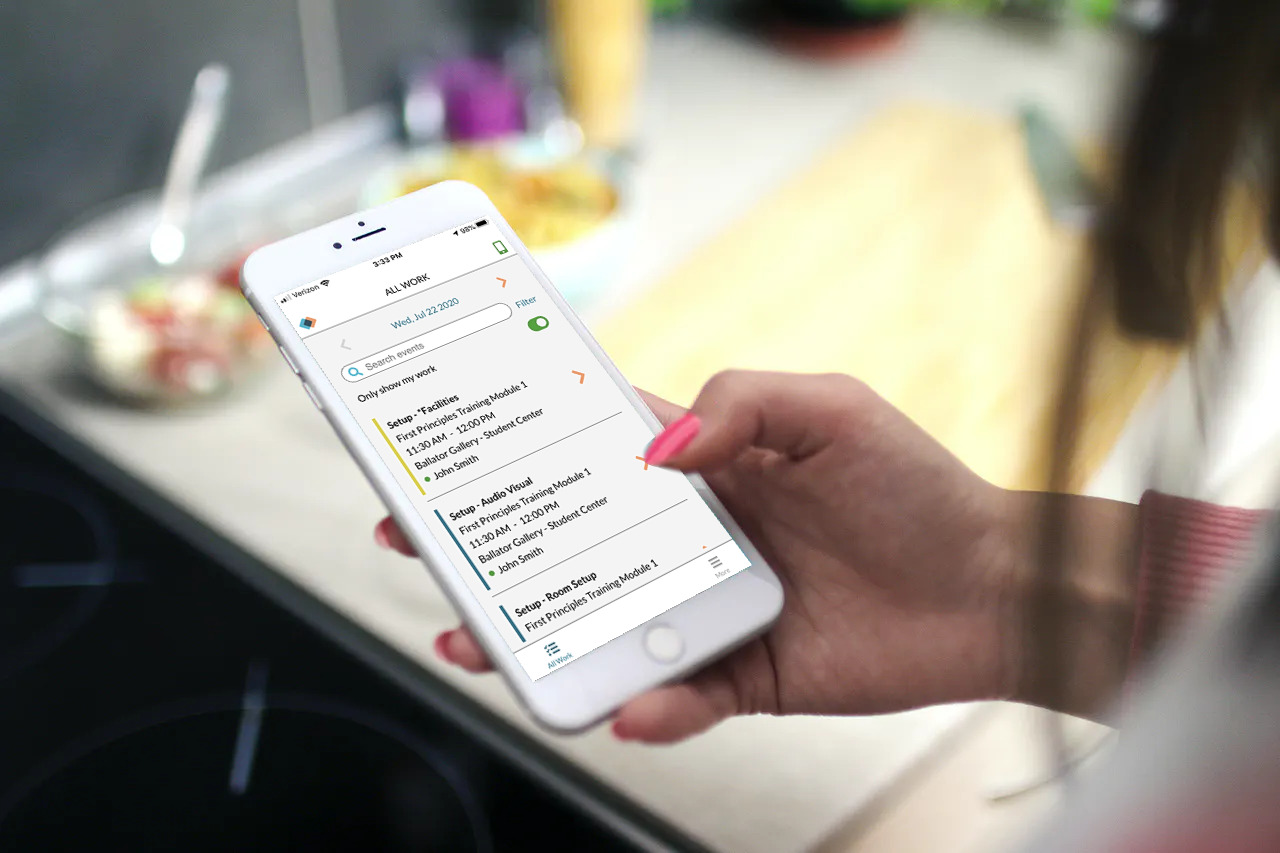 See an up to date list of work from anywhere
Manage Operations
This tool can also be accessed from either the desktop or mobile device and is for your managers who wish to review the progress of setups and service deliveries. From here, they can see all events that have services they manage. They can also see if a service has been started or completed and who performed it.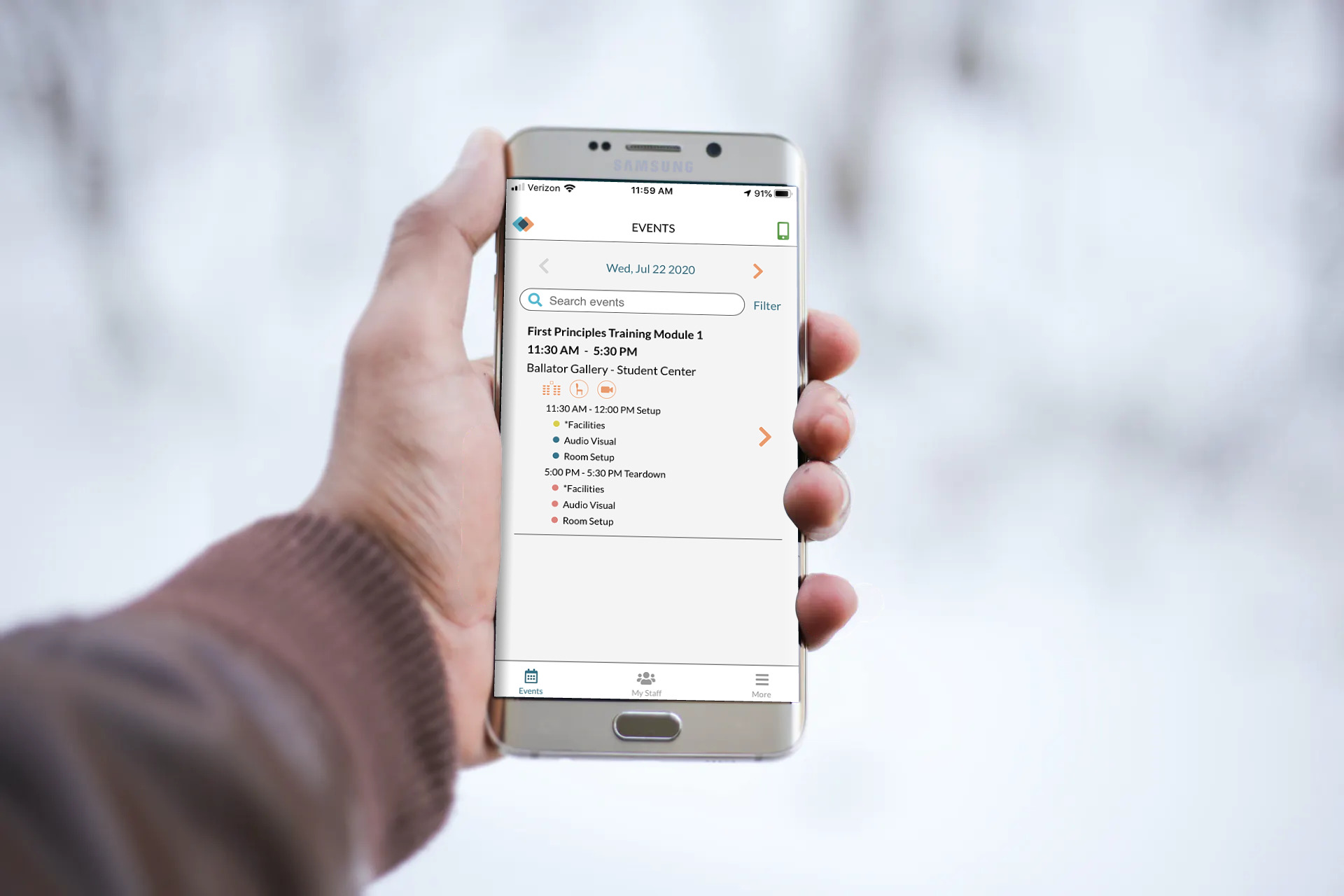 Manager viewing the status of event preparation
Get Started Today
With Mazévo Ops, you will never be left in the dark about a last-minute change. Everything you need to deliver your best service is at you and your staff's fingertips. Mazévo Ops is available today to all Mazévo customers as part of the standard system. To learn more about Mazévo Ops, contact us today.