Recently many of our customers have had to transition, at least temporarily, to working from home (WFH). If you are new to remote work and working from home or have been doing it for years, I thought I would share what work from home looks like at Mazévo where we have worked remotely since day one. I will also share with you some strategies that have worked well for us.
Background
At Mazévo I oversee sales and marketing which means I am on the phone a lot and do a lot of product demonstrations. We all wear a lot of hats here which means I also help out with customer support and devote part of my time to providing input on product features and direction.
Location
My work from home office is in the basement. Our basement has a large family room which I use part of for my office.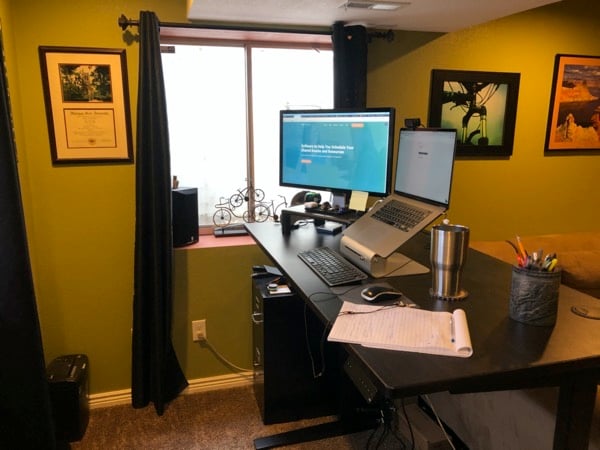 As you can see, I use a standing desk which I acquired about 3 months ago. I typically stand for 2-4 hours per day in the mornings and then sit the rest of the time. My computer is a MacBook Pro with an external Logitech C920 webcam. I use the external webcam because it is higher quality than the MacBook's webcam
The nice thing about having my office in the basement is that while I am working I have the entire floor of the house to myself. This is handy as I currently have my two teenage kids out of school and my wife is working from home as well. This setup allows us all the spread out throughout the house without too much hassle.
Importance of Breaks
One of the differences for me in working from home rather than in an office is the number of interruptions. When I worked in an office my day was filled with constant interruption and meetings. For me, working from home makes it much easier to carve out large chunks of uninterrupted time. We also limit the number of meetings that we have at Mazévo which helps too.
With limited distraction there is a limit to how long you can work without a break. I find that I can only go about 90 minutes max before I loose focus. This is consistent with research that shows productivity goes up with regular breaks. I also make sure that I schedule once a day to get outside for a bike ride or jog. Fresh air and sunshine help not only with clearing your head but are especially important for keeping a healthy immune system.
Systems & Tools
We use a variety of tools and software to to get work done at Mazévo. All of the tools we use are web based and accessible anywhere. The ease of using these systems and getting them up and running compared to the systems where you have to install software and maintain a server just can't be beat.
Legacy software systems can be a challenge to working remotely and given the current situation with COVID-19 you may be struggling with such a system. I recently heard from someone who uses an older scheduling system that took 20 minutes to look up event information over their VPN connection. All of the systems we use here are based in the cloud and don't require a server or VPN connection to access. Mazévo is designed to work the same way. Just login and go from wherever you are.
Here is a overview of the systems we are using to run the business.
Communication
Phone System - RingCentral
All of our calling needs are handled by RingCentral. Their app is installed on my laptop and cell phone so I can always take calls no matter where I am.
Email - Microsoft Office 365/Outlook
We have our email integrated with our HubSpot CRM system to easily log messages when necessary.
Video Conferences & Web Meetings - RingCentral
RingCentral includes a video conference solution that is powered by Zoom. We use this for all our software demonstrations and customer meetings.
Individual & Group Messaging - Basecamp
Basecamp is a great project management tool that also includes messaging. It works nicely for our communication needs and is included as part of their system.
Back Office
File sharing & Office Applications -Microsoft Office 365
We use SharePoint and OneDrive to collaborate on documents and spreadsheets in the company. I love that these tools allow multiple people to have a document open at the same time. There is also automatic revision tracking included. When I make a changes to a document the change is automatically saved as a new revision and I can access old revisions if necessary.
Contact Management & Marketing - HubSpot
We run all of our sales and marketing activities through HubSpot. It includes a CRM (customer relationship management) tool that we use to track sales leads and customer information. It also provides all our marketing automation for sending emails to our subscriber list. We also use it to power our website and blog.
Customer Support - HubSpot

HubSpot is also how we manage and track open support issues and maintain the Mazévo product documentation through the Mazevo Knowledge Base. As you can see we use HubSpot extensively in the businesses and I just love their tools.
Project Management - Basecamp
All of the Mazévo product development is managed through Basecamp. In Basecamp we organize all of the features, enhancements and bug fixes that will be built. Once organized, Basecamp allows us to assign the list of features to our development team. Basecamp gives everyone visibility into what is being worked on and allows us to comment and ask questions about any specific work item. It's a really simple yet powerful tool that works well for our needs.
Accounting - Quickbooks, SaaSoptics, Gusto
For our accounting we use a combination of QuickBooks and SaaSoptics to invoice and track income and expenses. We use Gusto to manage all company payroll and benefits.
Resources
Like anything working remotely has it's ups and downs. Having the right tools, strategies and attitude about it will go a long way to making sure it is a positive experience. Here are a few more resources if you would like to do a deeper dive on this topic.
Basecamp Work from Home Live Q&A - Basecamp has been working remote for over 20 years. In this Q&A their founders answer questions about how they do it.
Best of luck on your remote journey! We would love to hear how it is going for you. Leave us a comment or send us a picture of your home office.