Conversations are used to communicate with those making requests from the Mazévo mobile app.
With conversations a mobile user viewing their events can send a message to a Mazévo event planner about their event. The event planner can also send a message to the requester which are received in the Mazévo mobile app.
To access conversations from the Mazévo mobile app:
Go to My Events
Tap one of the events in the list
Tap Messaging
Enter your message and press the Up Arrow icon to send

To respond to a message from the Mazévo mobile app
The user will receive a push notification for new messages on their mobile device if they have push notifications turned on for Mazévo mobile. They will also see a red circle icon next to the event when they view My Events when they have new messages.

By tapping on the event with a new message the mobile user will be taken to view the new message and they can choose to respond.
The only way a requester can respond to a message is from the Mazévo mobile app. They will not be able to respond to a message from My Events on the web.
Notification of New Messages for Event Planners
Event planners can review the messages that have been sent and not yet reviewed by going to Day at a Glance.

Go to Events > Day at a Glance
Click the Unread Conversations circle to see which events have an unread conversation.
Click the event to review the conversation
Unread conversations are available to anyone with an Event Planner role. Ocean event planner has viewed the conversation it will be removed from the Day at a Glance page for all event planners.
To access conversations from an event for an event planner
Open an event
Click the conversations tab
Type a message to the requestor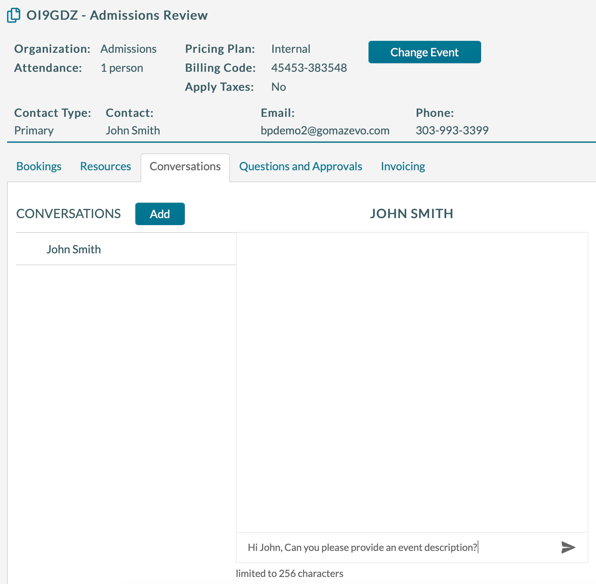 Caution: If you click on the conversations tab and see no channels available this means the primary contact does not have a Mazévo user account. If you add a user to send a message to and they do not have a Mazévo user account or they are not the primary contact on the event or they do not have the mobile app they will not receive your message.