This article describes how the Mazévo mobile app gives you access to important event management functions on the go.
Overview
Once you log in to the Mazévo mobile app, you can make requests, view event details, including setup information, and manage event service delivery right from your phone or tablet.
Please note: In the Mazévo mobile app, you'll only have access to the features and functions in your user role permissions. If you can't access a tool, please ask your Mazévo account administrator to update your user role permissions.
Functions in the Mazévo app include My Events, Review Events, Manage Operations, My Work, and Approvals. If you only have one user role available, you will not see this menu and instead be taken right to the function you can access.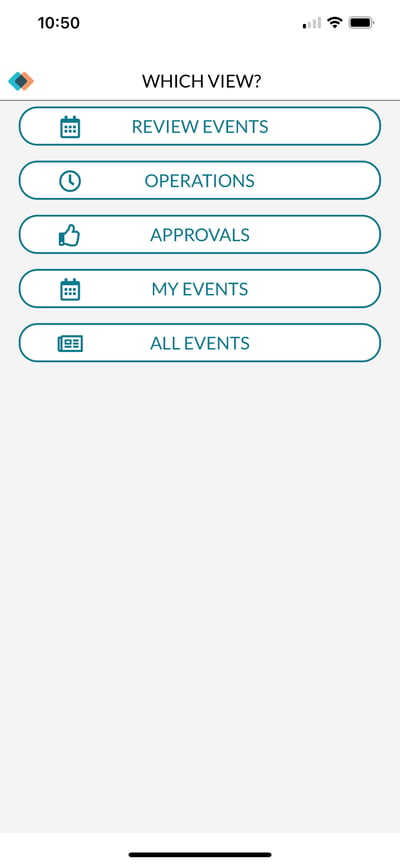 My Events
To access information on your events or enter new requests, tap My Events. Here you can:
View existing events you are associated with. This includes events you have submitted through the mobile app or events that an event planner has entered for you in Mazévo and listed you as a primary or secondary contact.
Add new event requests, including dates, times, location, and service needs, and answer additional questions about your requests. Your user role permissions will determine if an event planner must approve the request or if it is automatically approved.
Edit existing requests. You must be a primary contact on the event to edit your request. Secondary contacts can only view event details.
Scan a Mazévo Room Sign QR code to book a room right from the sign. Note: This requires that you have the Mazévo Room Sign (optional) installed in the room.
View notifications by clicking the bell icon at the bottom.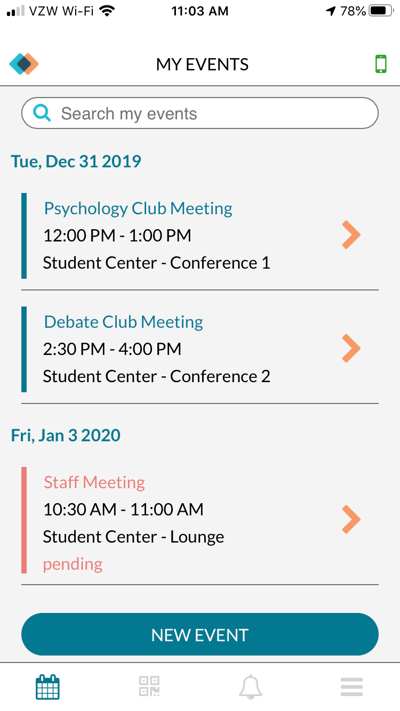 Review Events
To view a list of upcoming events and all setup details and services related to those events, tap Review Events. Here you can:
See a list of upcoming confirmed bookings.
View services, room setups, and setup notes related to the bookings
Mark bookings as reviewed and add notes
Identify bookings that have changed since you last reviewed them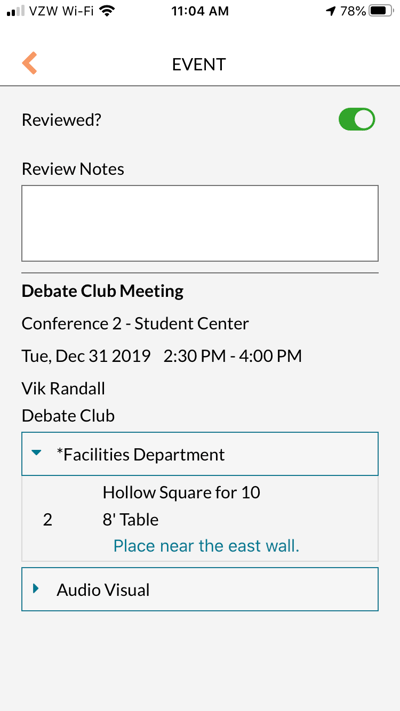 Operations
The Operations function is for people who perform and manage specific service providers such as facilities, A/V, or catering. To assign staff to set up or provide services for specific events, tap Operations. Here you can:
Indicate which service provider and any staff that you manage
View booking details, including service needs
Assign staff to individual bookings, including event setup and/or event teardown


The Operation function is also used by staff members who will be delivering services for events. Tap Operations to:
View a list of all bookings that you have been assigned to work
Mark bookings that you are working as in Progress or Completed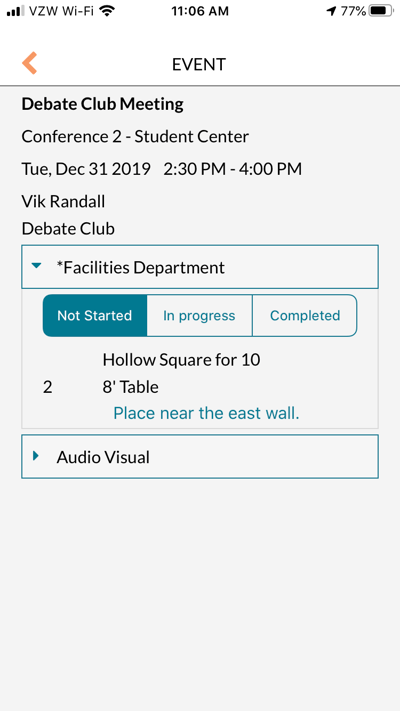 Approvals
The Approvals function is for those who have been asked to review and approve requests. To access approval requests, tap Approvals. Here you can:
View a list of events and bookings that you have been asked to approve
Mark events as approved, denied or disregarded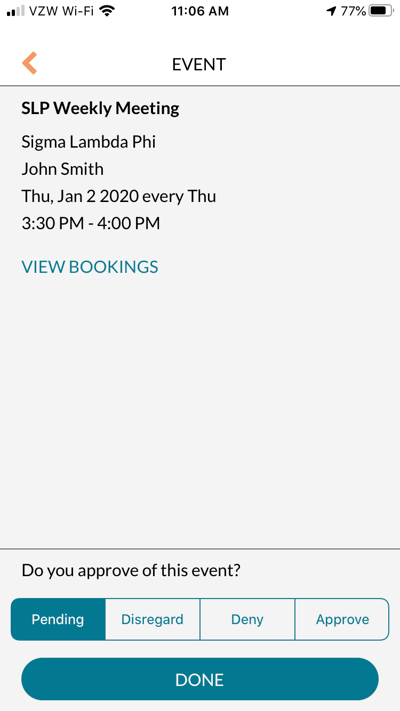 Settings
To access the settings menu, tap the hamburger button at the bottom of the Mazévo app.

Here you can:
Indicate your preferred building. This is the building the system will use by default when you create a new request.
Enter a default event name. This is the event name the system will use by default when you enter a new request.
Enable push notifications. This allows Mazévo to send you notifications to remind you of meetings that you have scheduled. You'll also receive notifications if an event planner sends you a message, asks questions, or asks for your approval.
Log in with Touch ID (iOS only). This allows you to bypass entering a password to access Mazévo mobile.
Change your password.
Log out of Mazévo mobile.