Changes to the Event Confirmation
New Confirmation Header - The layout of the confirmation header will now show more information in less space. The header also now displays the Event Coordinator if used.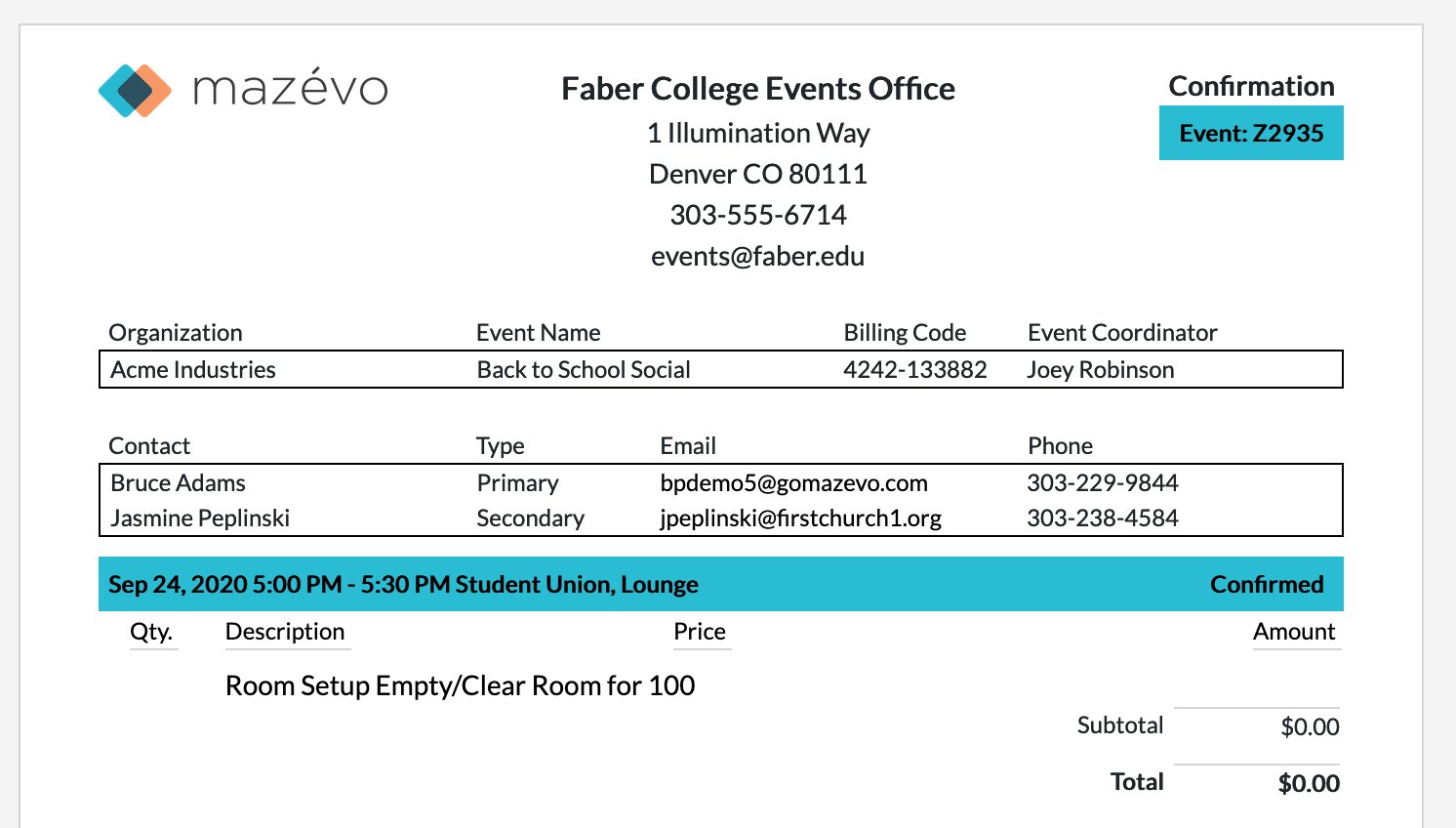 Confirmation Colors - You can now change the booking bar's background color on the confirmation. The Event ID also has a new background color to make it stand out.
New Event ID Number Scheme - The event ID was previously a six-character alphanumeric, which was hard to say and remember. The Event ID is now simplified always to include a letter followed by four digits. (example A3789)
Simplified Event Lookups
New Simplified Filter on Find Events - The Find Events filter is now simplified to only show the fields used most for searching, Organization, Contact, and Room. It also displays the most common time frames for searching. Previously you were always presented with a dozen options to choose from when searching for events. If you preferred the old searching method, more power to you, it is still available, and Mazévo will remember your preference the next time you search.
Other Updates
New Room Tag Editor - If you are a fan of Room Tags, you have a new simplified way to view and manage them with a new Manage Room Tags tool.
New Resource Usage Summary - Want to know how many times a piece of AV equipment was used last month? You can now with the new Resource Usage Summary Report. Drilling into the total on the report displays a list of the bookings utilizing the equipment.
New Skip Setup Option When Booking Multiple Rooms - When you are booking a room for an event, you may not always know the type of room setup at the time of booking. The new Skip Setup button will tell Mazévo to stop asking you for the room setup if you need to book multiple rooms at once.
Add New Contact from Event Book - When adding a new event from the event book, you can now add new contacts on the fly.
Updates to Mazévo Ops - There are several updates to Mazévo Ops to allow for more flexibility in how you manage operations through Mazévo.
Managers Can Change Service States to Completed - Changing the state of a service to "In Progress" or "Completed" can now be done by a manager. This ability was previously only available to those with a worker role.
New Setting to Not Allow Workers to Set Service State - This is for organizations where Managers are the only ones to indicate the completion of a setup or service.
Managers Can Mark Events as "Ready" - A manager can now indicate when all services and setups are reviewed and completed for an event by clicking the Ready button. You will see a new column in Manage Operations that shows which events marked as Ready.
New Icon for Changed Events in Manage Operations - The Manage Operations Page now has a column that will indicate if an event has changed since it was last reviewed.
Additional Information for Scheduled Emails - There is a new column for the recipient of a scheduled email (primary contact, secondary, etc.) and a timestamp to displaying the sent time of the scheduled email.
Analytics Filters Displayed - The settings used to create a report for analytics are now displayed. Previously if you published an analytics report, you could not see the filter settings.
What's Fixed
We fixed a bug where the request form displayed a service provider with no resources available to request.
When adding a new event, the Best Available Search will now display all alternate rooms regardless of the setup type chosen.
Disabled rooms will no longer display when managing pricing or room setups.
The booking editor window is now organized more logically.