With this release of Mazévo, there are several enhancements for your operations staff to give them the event setup information they need. Ops functions are now even more flexible and can be accessed from any phone, tablet, or desktop device.
Review Events and Manage Operations Now Available in your Web Browser. Previously these functions were only accessible through the use of the Mazévo Mobile App.
Manage Operations Simplified. Previously there were separate functions to assign staff and view completed work. These functions are now a single item called Events. From here, you can also view the status of each service delivery noted with a colored indicator next to the service provider.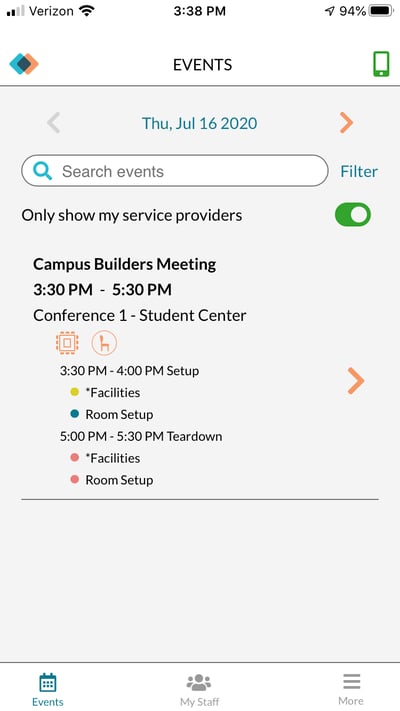 Operations Staff Can Now View All Work. Previously a manager would need to assign operations staff to set up or teardown specific events within Mazévo, or staff would not be able to see the booking. Now your team can view all scheduled events and services even if they are unassigned. They can also assign the setup or teardown to themselves as needed.
"My Work" is Now "All Work." This is to accommodate the above change. A user can now filter the list of bookings in All Work to just themselves as desired.
New Notes Field for Workers on Bookings. When a worker is performing a setup, they can now enter notes about what they did or noticed.
New Filter for Review Events and All Work When you are using Review Events, you can now filter the list of events by building. When you are using All Work, you can now filter by building and service providers.