New Advanced Event Calendar
The existing Mazévo calendar now defaults to an "advanced" option when viewing events. The advanced calendar works similarly to the current Mazévo calendar, but instead of listing the first three events on a day during the month, it displays the number of events on that day instead. Clicking on one or more of the days will show all those events down below. The existing calendar view is still available as the "standard view."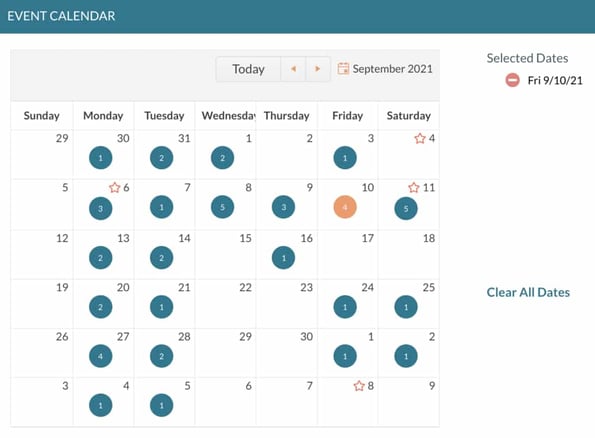 Other Enhancements
New Reply Email for Account Maintenance.
You can now specify an email address for account maintenance emails, such as forgetting passwords or confirming account emails. If a user chooses to reply to one of these automated emails and you have specified a "reply to" email address, you will receive the email instead of having it go into a black hole, never to be seen again.
New Building Hours Configuration Page
The configuration of building hours has been cleaned up to make it easier to understand how you have configured your building hours. If you have many building hours, you can now see columns for Building, Start date, end date, start time, end time, and closed all day. Each of these columns can be sorted and filtered.
Status Display is Now Alphabetical
When an event planner is changing status, the list of statuses now appears in alphabetical order. Previously the list was grouped by booked space statuses first in alphabetical order, followed by non-booked space statuses.
Special Dates Now Display to Requesters
When a requester chooses dates to request from the calendar, they will now see an icon indicating that one of their dates is a holiday or special date. Previously they were given no indication.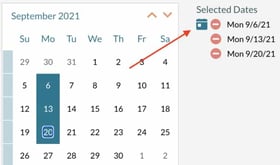 Email Confirmations Now Include Event ID in Subject Line
Previously the event ID only appeared in the body of the email.
SSO - You Can Now Limit Which Mazévo Tenants a New User is Created in.
This change affects organizations with more than one Mazévo Scheduling Department/Tenant that uses Single Sign-On (SSO) at their organization. You can now limit which tenants a new user can access the first time they access Mazévo with Single Sign-On. Previously any new user would have a user account created in all Mazévo tenants at your organization.
Bug Fixes
The following issues have been fixed in this release.
You can no longer assign a disabled contact to an organization.

Post-event scheduled emails were not sending. They are now.

PDF room diagrams were not opening if you changed the booking.

Available room searches were running slow if you had a lot of rooms with default setup & teardown times. This is much faster now.


Exporting the resource usage report would only give you one page of results.

The daily operations report was not being sorted by event setup time.

Resource notes were not displaying to approvers or those viewing events from the book. Both resource notes and any special instructions now show in those areas.

Predefined messages are now displaying in alphabetical order on the send confirmation screen.