Event Editor Changes
Event Editor - Drag Windows Around the Page
You can now move any change bookings and resource windows around the page by clicking and dragging from the top portion of the window. This makes it easier to refer back to information that may be behind the window.
New History Button that Displays All Event History
You can now click a single button to view all changes to a particular event, and it's related bookings and resources. Previously if you needed to know what a requester has changed on an event, you would need to potentially check three places, event history, booking history, and resource history. With this new view, every change made to an event is listed in chronological order.

Operations Changes
Improved Consistency Between Mobile and Web Tools
Those with the Operations Worker or Operations Manager roles can now have a consistent experience with the same tools on the web and in the mobile app. The Operations Workers can now mark setups and work items complete from the web. Previously they had to use the mobile app to do this. Operations Managers can now view notes added to work items from the web. Previously you could only do this from the mobile app. Ops Managers can also now complete work from the mobile app.
New Work Log for Work Items
Manage operations now includes a work log similar to the work log for bookings
New Ways to Access Events

Open Bookings from Room Information Window in the Book
When you click on the name of a room, you can view the list of all bookings for the day. You can now click one of those bookings in the list to open the event.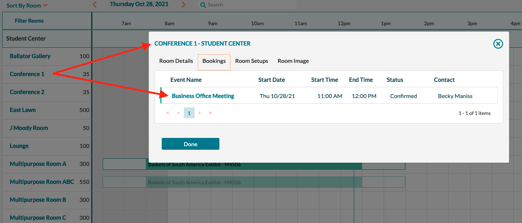 Open Events From Revenue Analytics
You can now open an event by clicking on the event name in Revenue Analytics.
Requester Updates
New Building is Required Message for Requestors
It was not always apparent to a new requestor that they had to click or type in the location field to add a building to see a list of rooms to request. A new message has been added to make it clear what they need to do.

New Time Default Option for Requestors
When making a request, the start and end times will always default to the next half hour, i.e. 4:00 PM to 4:30 PM. The requester can now have the times blank when making a new request and can then enter a time from scratch rather than changing the default time.
Requesters - The Unavailable Room Tab now Shows Partially Available Rooms
Previously the unavailable rooms tab would not display rooms available for only some of the requested dates. Now you will see them there along with the dates that the space is not available. A requester can still select the room for the dates that it is available.
The Building is Selected Automatically for You When You Only Have One Configured
If you only have one building in your system, Mazévo will automatically select that building when adding a new event, new request, using the book, or Day at a Glance. If you have more than one building in your system, remember that you can set your default building by clicking on the system menu in the top right corner and selecting "Profile & Preferences."
Configuration Changes
New Room Setup Icons
There are two new room setup icons that you can use for interviews and vendor tables.

New Service Provider Icons
There is a new table icon, serving tray icon, microphone icon, and people icon that you can use when configuring your service providers.

New Option to Configure Default Setup Time for Multiple Rooms at Once
You can now adjust the default setup and teardown time for multiple rooms at one time. Go to the room settings page and check the boxes next to all the rooms you wish to set the default setup and teardown times for. Previously you would have had to edit the time for each room individually.

Event Book: You Can Now Set the Color Based on Event Type Rather than Status.
By default, the colors in the event book are determined by the status of the booking. You can now choose to have the color of your bookings based on the type of event. To change this setting, please get in touch with Mazévo Support.