With this release there are several improvements to how room setup configurations and room capacities are managed in Mazévo. These changes will ensure both your event planners and event requesters are getting the best information about the room and seating styles for their events. Read on to learn more.
Room Setup Icons
With this update you can now add icons to your room setup configurations in Mazévo. The icon provides a graphical representation of the seating style which is displayed to both your customers and and to your staff. Previously the setup style was represented by text label only.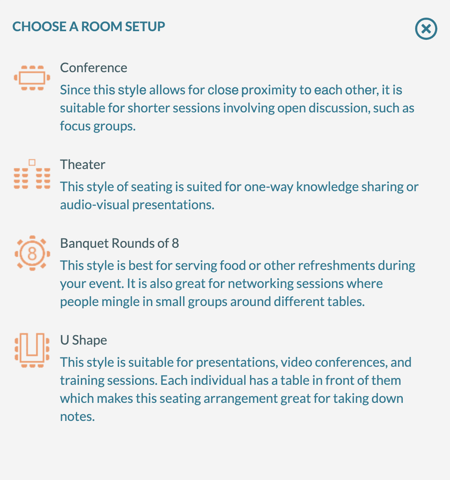 The icon displays next to the seating style title for the event planner
New room capacity based on room setup.
You can now indicate which types of setup styles a room can accommodate along with how many people the room will hold in that configuration. Mazévo will also now prompt for room setup during the request and scheduling process and will only display rooms that can accommodate both the room setup and the required number of people.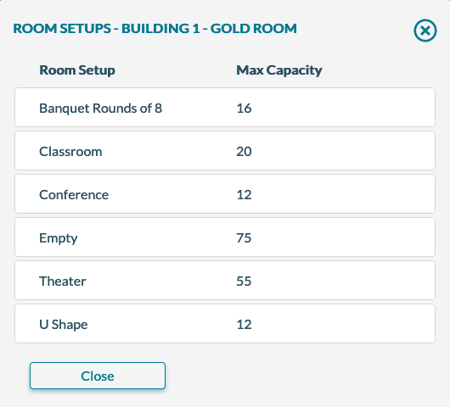 New default setup and tear down times for rooms
You can now specify a default setup and tear down time for each room. These times will be added automatically when an event planner or requester selects a room. Event planners are able to override the default if desired. Previously the setup and tear down time were always set manually.
What's Improved
New Event Notes
You can now add notes to events that are only visible to other event planners in Mazévo. These internal notes are not visible to customers or those who can only view (but not edit) events in Mazévo.
New Private Event Flag at the Booking Level
You can now mark individual bookings as private. Previously you could mark events as private which made every booking on the event private.
Determine the Event Types That Can be Added to Requests

There is a new "requestable" flag you can set for event types. This allows you to determine which event types can be associated with new event requests.
An Easier Way to Add Bookings to Existing Events
You can now update the event name and event type when adding a booking to an existing event. Previously this had to be done in multiple steps after the new booking was added. This change saves you time and mouse clicks.
New Date Selector on Event Book
The way that you change dates on the Event Book has been updated to be more efficient requiring less clicks than the previous method. Less clicking = 😀