New Advanced User Security - With this release you now have more control over the specific rooms someone can request through Mazévo. Previously all your rooms had to play by the same set of rules when requested. You can now set rules on an individual room determining when it can be requested and for how long. You can also create different room rules for different sets of users (e.g., staff vs. students).
Additional Limits on How Far Out Requests are Accepted - You can now set a fixed date in the future for how far out you wish to take requests. Previously you could only set a rolling date, for example, 60 days from today. This is available in advanced and standard user security.
New Layout for User Security - The window you use to edit a user's security has been changed and some of the user security roles have been simplified. This was done to make things easier to understand and accommodate the other mentioned changes in user security.
New Service Provider View in Activity Log - The activity log can now be used by service providers (AV, catering, facilities etc.) to see new and changed services. They can view the changes that have been made to services over any time frame including the last day or last week.
Reports Now Use A Darker Font Color. Previously the reports used a dark grey font. The new black font will make the text easier to read when printed.
New Room Card Report - Mazévo will now print a list of events taking place in a specific room. The report is designed to be placed outside the room and will display the all the events happening in the room for one or more days.

New Service Order Report - The Service Order Report displays a single service for an event. It includes all of the details for the service including the date, time, customer, contact and time of the service and details about the equipment required and service itself.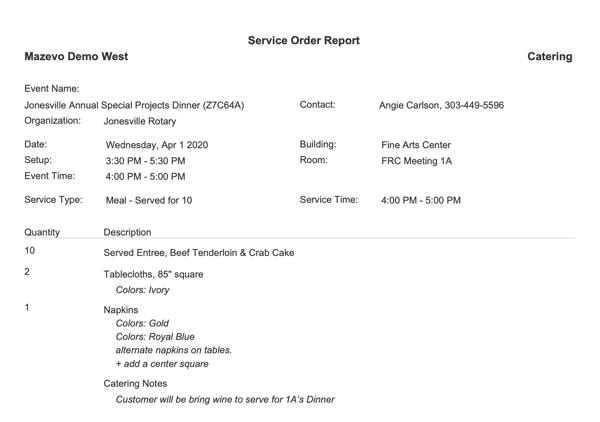 Analyze Events by Status in Analytics - There is now a way to analyze the the number of events, hours, revenue and attendance by the booking's status (confirmed, cancelled, tentative etc.)
Performance Improvements to Find Events and Event Editor - The event editor and find events pages will now open and load quicker.