Introducing Scheduled Emails
With this update, you can now have Mazévo automatically send emails to your customers before and after their event. Examples include automatic reminders to customers to communicate important event details before their function or a post-event survey sent after the activity.
These email messages can be scheduled automatically by Mazévo based on your settings or scheduled manually when you are editing an event.
Brand-new Tools in the Event Book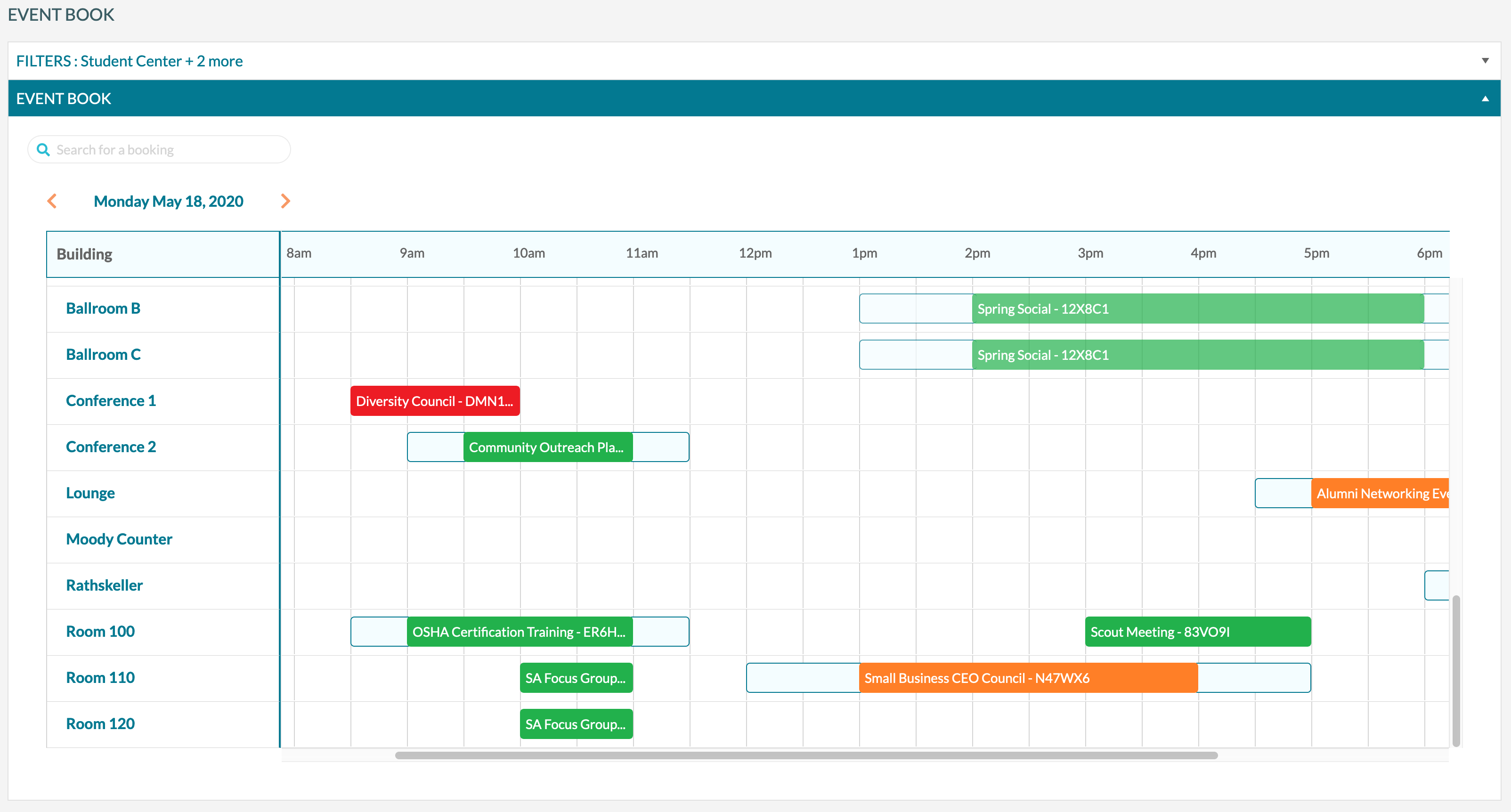 This release includes several improvements to Mazévo's Event Book that allow you to add and edit bookings without having to leave the page. Right-clicking on a booking will open a menu allowing you to change the time or the room quickly. Double-clicking on any open area of the book will enable you to create a new event on the fly.
Two other helpful features have been added to make it easier to view events that may fall outside of a standard workday. The book now has expanded viewing times. It now shows an entire 24 hour period starting at midnight. Previously the book only displayed events during the hours of 7:00 AM to 8:30 PM.
The book also now visually displays building hours. The times outside of your building's operating hours are indicated with grey shading, making them stand out. Previously the building hours were listed, but there was no shading for a visual reference.
Shared Rooms
Let's face it. The last thing you want is for your scheduling system to allow you to accidentally double book a room. There are times however, that you may need to have two groups share the same space at the same time. For instance, you may have two conference groups that will be having lunch in the cafeteria at the same time. With the new Shared Rooms function in Mazévo, you can now allow two confirmed bookings to be in the same room at the same time.
Billing Improvements
A new complete column on the Create Invoices page makes it easier to tell if an event has any future bookings. Seeing if an event still has future bookings is helpful if you have events that recur regularly, i.e., a weekly meeting. Knowing if an event with multiple bookings is complete can help you determine when it is appropriate to bill the client.
There is a new organization type column on the Create Invoices page. This makes it easy to distinguish external customers from internal groups that you may have a different billing process for.
There is a new payment type for Electronic Funds Transfer. This new payment type is in addition to the existing payment types of cash, check, credit card, and "other."
You now have an option to bill for a single activity more quickly. Previously you would have had to perform a search across a specified date range for an event and then select the event from a list to generate an invoice. Now you can enter the event number without having to search.
New Requestable/Reservable Indicator in Request Form
When someone is making a request for your space in the Mazévo app, they can now see if the room is reservable or requestable. Reservable rooms are automatically approved for use as long as the room is available at the time the individual is requesting the room. Requestable facilities require the approval of your event staff before being confirmed for use.