Our developers have been busy this month. This update includes a little something for everyone in your organization that uses Mazévo.
Event Editor
New Email History
Mazévo will now keep a history of confirmation and invoice emails sent from the system. The history includes who the confirmation was sent to along with the date and time sent and any message.
New Event Alerts
You can now add alerts to events. An Alert is a message that will display anytime an Event Planner views an event.

Automatic Inventory Alerts
When editing an event, you will now receive an alert that changes you made may affect your available resource inventory. There is also a new "check inventory" link that will verify your inventory for the event and alert you if a resource is overbooked.
Copy Event Messaging
There is a new message when you copy an event to let you know that Mazévo has copied your event and if any conflicts occurred when it was copied.
Select Event Coordinators
You can now select which event planners are also event coordinators. Previously all event planners were able to be selected as event coordinators. If your organization does not use Event Coordinators, then the field will disappear.
Room Diagram Labels
When adding a diagram to an event, you no longer have to type in the diagram name every time.
Select Status When Adding Bookings
Previously when you added a new booking to an existing event, you could not select a status for the booking.
Event Book
Change Status
You can now change an event's status in the Event Book without going to the event editor page.
New Weekly Scrolling
You can scroll dates forward and backward a week at a time by holding down shift when you click the forward or backward arrow.
Settings Saved
The event book now saves your viewing settings, including zoom level, room sorting, and building selections.
Public Event Book Updated
The event book's public view has been updated with the ability to sort the room list, zoom, and weekly view. It will also save your settings.
Find Events
Additional Fields Available in Find Events
You may now select from up to 19 additional event and booking fields to display when using Find Events. These fields can be exported as an Excel .xlsx file for your reporting needs.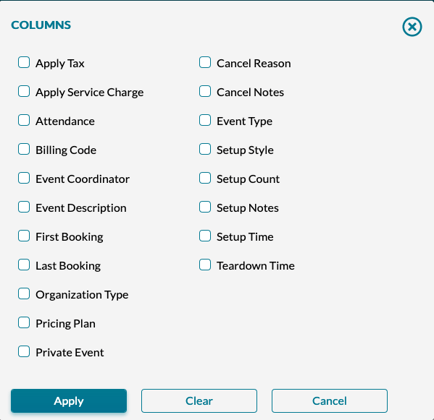 Calendar
New Event Pop Up
When viewing all events on a given day, You will now see those events in a pop-up window. Previously the events were displayed on a separate page.
Requests
View Previous Requests
A requester can now view their previous requests. The request's Event ID is also displayed now.
Select All Buildings
A requester can now choose to search for space across all buildings instead of selecting each facility individually.
New Larger Text Field for Event Questions
The viewable size of the text response field has been increased. You were previously limited to viewing a small single line of text.
"My Events" Now Available to Event Planners
Event planners can now submit requests for space in facilities they do not manage.
Reports
New Link to Published Reports
You can now send a link to any of your published reports. Clicking on the report link will generate the report in real-time with the latest information. You can share the report link with your team, and it does not require the report viewer to log in to Mazévo.
New Report Type Column in Published Reports
The list of published reports now displays the type of report (daily Operations Report, Analytics, Event List, etc.) next to the report name.
Room Configuration
New Room Setups Column
There is a new column in your list of rooms that will display the number of setups defined for a room. Clicking on the number will allow you to view and manage all the configurations for the room.
Organizations
New Organization Email
You can now store an organization's email address in Mazévo. You can also use this email when sending the confirmation and invoice.
See Organizations Event Status
When you view an organization's events, you can now see those events' statuses without opening up the event editor.
Room Sign
See Future Events
You can now display events happening up to 6 days in the future on the Mazévo room sign.
Hide Organization and Contact
You now have an option to show or hide the organization and contact name from the room sign.
What we Fixed
This update includes a variety of bugs and other issues that we corrected.
Room Charges Display Issue
Room charges calculated using the half-day/full day pricing method were not always displayed.