New Public Calendar Display Options
With this release, you can now add additional marketing information to your events that display on the public calendar for your organization. Additional information includes images, links, and text fields. You can also select which of your users can edit this information on your public events. Please contact Mazévo Support to enable this option for your account.
New Catering Features
This round of updates includes several features that will assist catering departments in managing their services.
Banquet Event Order Report
You can now create a Banquet Event Order (BEO) for any booking. The BEO will display a single booking on a page with all services you have configured to show. The BEO is configured in settings with Confirmation Templates. Once configured, click the "Email" link on the event to view the BEO.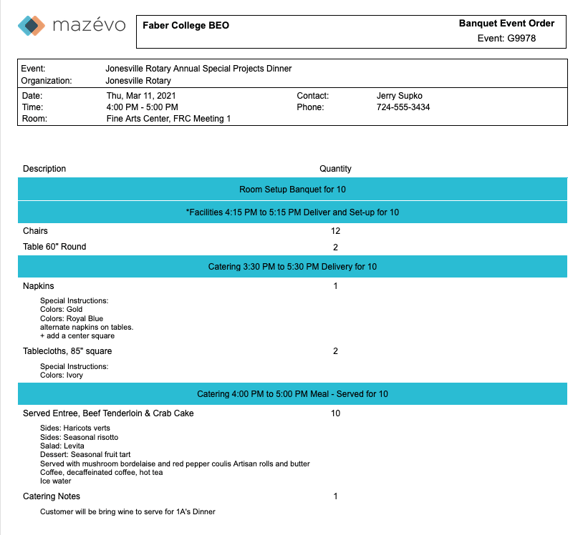 Suppress Pricing on Confirmations and Banquet Event Orders
You now have an option to hide the pricing on your confirmation or BEO documents.
Resource Usage Report - Tag Filtering
You can now filter the Resource Usage Report by resource tag. Previously you could only filter by service provider. This gives you finer control over what you want to display on the resource usage report.
Resource Usage Report Publishing
You can now publish the resource usage report. Publishing creates a link to the report, which you can share with others.
Find Events Filtering by Event Coordinator
You can now use Event Coordinator as filtering criteria when displaying a list of events.
New Resource Sequencing on Bookings
You can now edit the sequence that resources will display and print on individual bookings.
Enhancements to Add New Event
New Icon for Special Dates
There is now an icon next to any date with an associated Special Date when adding new events. Clicking the icon will display what the Special Date is.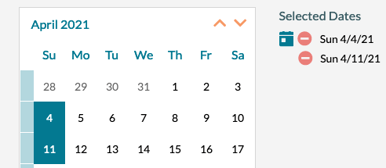 All Buildings Option
There is a new option to search for space across all buildings instead of selecting each facility individually.
Other Changes
Add Links to Mazévo Messages
You can now add web links to messages on the confirmation, invoice, and email messages you send from Mazévo.
Message Size Increase
The maximum text size of messages has been removed. Previously messages were limited to 1,000 characters.
Billing Worksheet Report
When generating invoices, you can now preview charges for invoices as a batch. Previously you had to preview invoices before you generated them one-at-a-time.
Room Diagram Uploads
You can now upload a room diagram file with a booking. Previously you could only save the URL to the location of the room diagram on the booking.
New Create an Account Link
You can now allow someone to create a new account and request space without intervention. Previously, the only way someone could request a room was to manually set them up with a user account first or use SSO. If you wish to enable this capability, please contact Mazévo support.
New Menu Group for Requests and Approvals in Web App
There is a new menu group for requests. This will display to any user who is a global administrator or has the option to request space. Previously global administrators could never see the request menu items without logging into the mobile app.