Event Book Improvements
With this release, there are several updates to the Event Book to make it easier to view and work with schedules in a large number of rooms.
See More Events and Rooms in the Event Book - The new Zoom Out feature allows you to view an entire day and more rooms on the page.

Event Book Filter - The Book's search bar now allows you to search on more than just the event name. You can now filter the Book by the event name, organization, contact, status, room, and room type.
Event Book Tool Tip - The pop up in the Event Book now displays the organization name and contact name.
Event Book Sequencing - You now have the option to sort the rooms that display in the Book by size/capacity. Previously the rooms were only sorted alphabetically.
Open Room Setup Diagram from Book - When right-clicking on an event, there is now an option to display the room diagram if one is attached to the booking.
Open Events to Booking - When opening an event from the Book or Find Events, the booking is highlighted in the event editor for quick reference.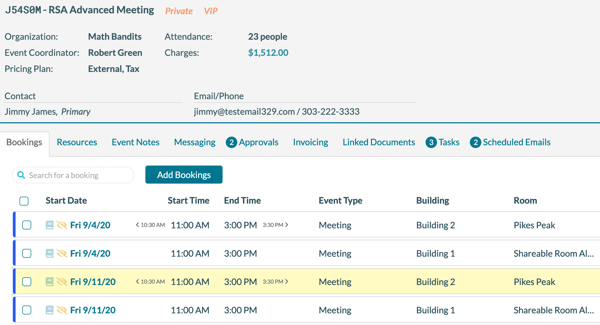 More Tools for Working with Organizations in Mazévo
There are now many more ways to make it easier to work with your organizations and customers in Mazévo.
Add a Contact - There is a new add a contact function available while working with organizations. Previously you could assign an existing contact to an organization, but if you wanted to add a brand new contact, you needed to go to another page. You can now do this all from one place.
View Events - You can view all of an organization's current and past events from the Organization page.
Add New Event - You can now add a new event from the Organization page.
New Restricted Organizations - Do you have a group that didn't pay their bill the last time they used your facilities? There is a new restricted checkbox on an organization that will prevent you from scheduling new events for that organization. When you restrict an organization, you can also add notes to indicate why they can't schedule new events.
New Event Coordinator Field - You can now designate an event coordinator for your events. You can also assign a default event coordinator for an organization. When you book events with that organization, the default event coordinator will be used.
Other Updates
Cancel Reason Note - When using cancellation reasons, there is now a note field to indicate who canceled the event and additional details.
Room Tags Available on Reports - You can now filter the Event Schedule, Daily Operations, and Service Order reports with room tags.
New Internal Room Notes - There is now an Internal Room Notes field on rooms. These notes are only available to event planners in Mazévo. They can be viewed by clicking on a room in the Book or from Add New Event.
New Exports on Day At A Glance page - You can now export requests and approvals to Excel or PDF from the Day At A Glance page.
New Building Filter on Day At A Glance - You can now filter the Day At A Glance page by Building. Previously any event planner or global administrator would see all requests and approvals regardless of where the event is taking place.
Open events with EMS Reservation Number - If you have events converted from EMS, you can now use the EMS Reservation Number to open the event rather than the Mazévo Event ID.
Email Opt-out of New Requests and Changes - A user can now select not to be notified of new event requests and changes to requests.
New Notification of Unread Messages - Those requesting space through the web app will now receive email notification when they have an unread message from an event planner.
New Copy Booking Button - There is now a Copy Booking Button on the Booking Editor Page.
New Copy Resource Notes Button - There is now a button to Copy Resource Notes to the clipboard from the Resources tab of the Event Editor or Booking Editor page.
What's Fixed
Corrected a bug causing Security Policies to work incorrectly.
Fixed an issue that would cause the Mazévo Course Importer not to import courses successfully.
Fixed a problem with the Mazévo Course Importer that allowed you to import courses with no Academic Statuses defined.