This article explains what account settings are and how they affect use of the system.
Overview
Account settings are system-wide settings that are managed by global system administrators. They affect what users are able to do in Mazévo.
To access account settings:
1. Hover your cursor over the arrow beside your initial in the upper right corner of the window.
2. Select Account Settings.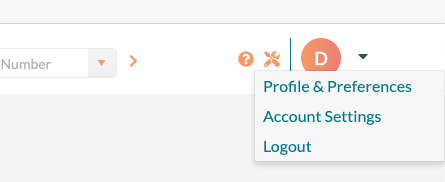 The system then displays a window where you can review/modify the settings listed below.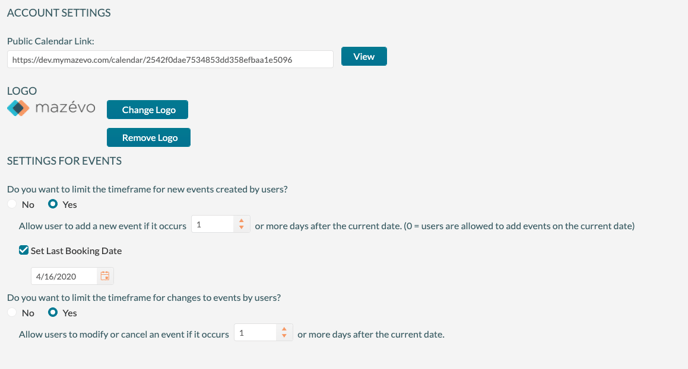 Public Calendar Link
This is a link that can copied and used on an external website to launch an interactive calendar of events with data from Mazévo. Note that if an event has been marked as "private" none of it's bookings will display on the public calendar.
Lock Bookings
This prevents changes to data in bookings that are older than the number of days specified.
Confirmation Footer
This message is displayed at the bottom of confirmations. It can be used for relaying policies and procedures to the customer.
Requirements for new events
This setting dictates whether Mazévo will require two key pieces of data that are associated with events. You may want Mazévo to operate such that events are tied only to an organization and no contact is required. Or you might want to require both an organization and a contact for each reservation. And another option is to require a contact only.
This setting affects event planners who are entering new events into Mazévo as well as those making requests from the web or mobile app.
Do you want to limit the timeframe for new events created by users?
The two fields displayed if you click Yes limit how much lead time is required to create events and how far into the future they can be created. For example, if you want to prevent users from creating same-day events, you enter a number of days other than zero in the first field. To limit how far into the future a new event may be created, you specify a number of days in the second field.
Do you want to limit the timeframe for changes to events by users?
To prevent users from changing events at the last minute, click Yes and specify the number of days in advance of the booking date that changes must be made.