Account Settings determine various system behaviors for all users of the system.
Overview
Account Settings are where system wide settings that are managed by Global System Administrators.
Account settings are accessed from the menu item located under the user's initials in the upper righthand corner of the menu (after log in):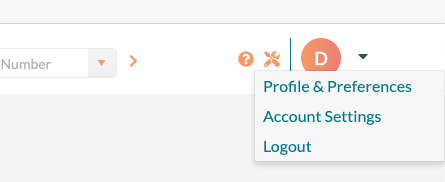 Below is a example of the settings screen: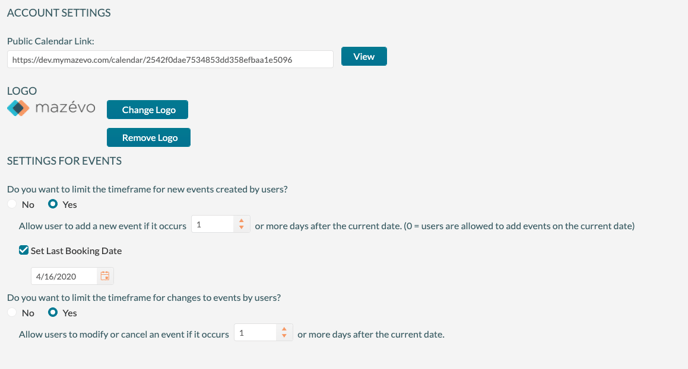 Public Calendar Link
This is a link that can copied and used on an external website to launch an interactive calendar of events with event data from the Mazévo system.
Lock Bookings
This prevents changes to booking data in the system older than the number of days specified.
Confirmation Footer
This text message will be display at the bottom of the confirmation. This can be used for relaying policies and procedures to the customer.
Event Settings
Require Organization, Require Contact, Require both
This setting dictates how the system will require 2 keys pieces of data that are associated to events. In some installations, events will be tied only to an organization and no contact will be required. In other installations, both an organization and contact are required for each reservation. Some installations may not use organization but only contacts and in that use case, only the contact will be required.
Limit Timeframe for new events
These 2 fields will limit how 'close' and how 'far out' new events can be created. If you want to prevent users from adding new events into the system for today, set the first field to a value (expressed in number of days from 'today') of 1.
To limit how far into the future a new event may be created, set the second field (allow user to create an event within the next 'X' days).
Limit Timeframe for changes to events
To stop the user from changing events at the last minute, set the Limit Timeframe for changes field to the numbers of days in advance of the current date to prevent changes.