See room availability, locate bookings, and open bookings with the Event Book.
Overview
The Event Book is a graphical depiction of the activity in your rooms. It's used to see if a room is booked on a particular date and time, and also to locate events. One of the benefits of using the Event Book is that it allows you to see the temporal relationships between bookings.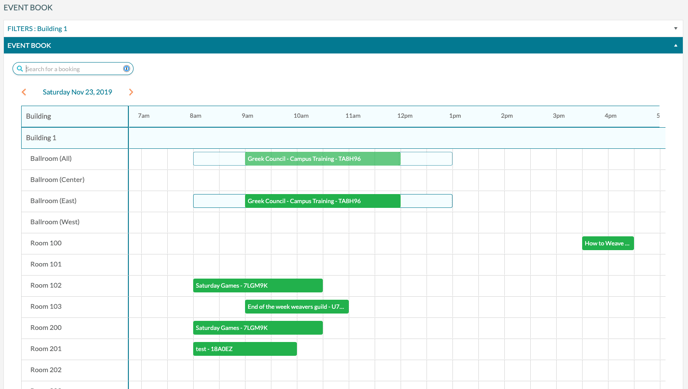 To use the Event Book:
1. Go to Events > Event Book.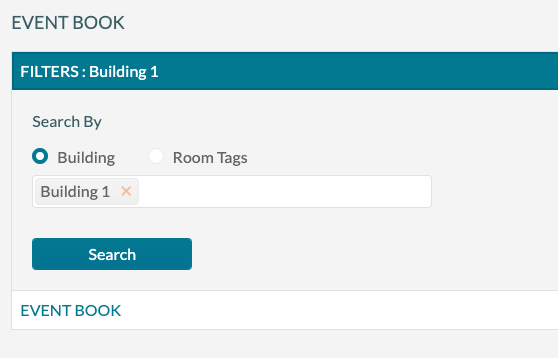 2. Click FILTERS.
3. To search by building, click Building and then click in the field to select a building. To select another building, click in the field again. To search by room tags or room type, follow the same procedure.
4. After making your selections, click Search.
Tips and Tricks
Changing Dates
To scroll forward or backward one day at a time, click the navigation arrows to the left and right of the date.
To change the date more than one day, click on the date and select a new date to display.
Getting More Information
Hover your cursor over a bar to see more event information.
Click the arrow at the end of an event bar to see options for viewing more information or opening the event.
The View option displays an event summary. Clicking Open opens the event in a new browser tab.
To see additional details about a particular room, click on the room name to view setup capacities, notes and an image of the room.
Understanding the Display
Setup and teardown time, if specified on the booking, are displayed at the ends of the event bar.

Bookings in combination rooms are represented in all affected room components. In the example below, the booking is in Ballroom (East). However, the booking is also shown (faded out) in Ballroom (All), as that room cannot be reserved for this date and time since one of its component rooms is reserved.