In Mazévo, chat messages can be sent between users, typically the requester and event planners, on a default 'channel.' Channels are used to separate messaging between a group of users.
What are Messaging Channels
There are two types of channels available, the external channel and internal channels.
Each event has one external channel that is automatically built by the system. The external channel sends and receives messages from the primary contact on the event. The messaging on this channel is available for the primary contact (the requester) to view.
All other channels for an event are internal channels and are used exclusively for chatting between event planners and operations. Messaging on the internal channels can not be seen by the requester; however, all event planners in the system can view any messages on any internal channels.
On internal channels, you can add new users (event planners or operations) and remove yourself from an internal channel.

Selecting a channel to send a message to:
1) Click on one of the channels on the left panel (see the image above).
2) Enter a message and press the Send button.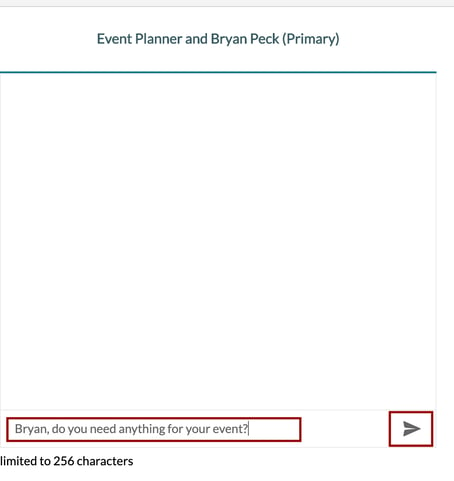 Creating a new channel
1) Select a name from the 'Start a Conversation with...' dropdown box on the left panel.
2) Press the Start button.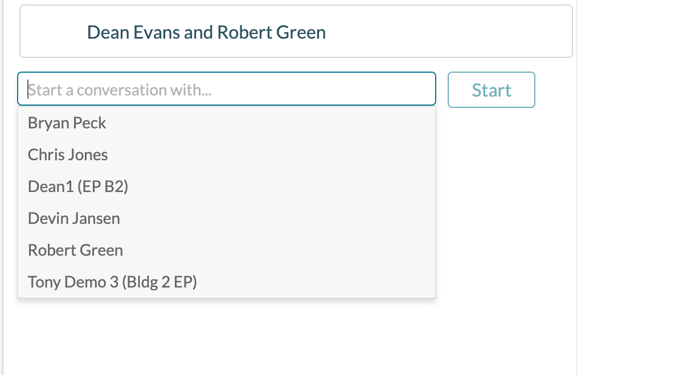 Adding a user to an existing internal channel
1) Select the channel in the left panel.
2) Press the Add More People button in the right panel and select an additional user from the dropdown.