Mazévo lets you easily export data into excel or a pdf format. Exporting is available from all configuration items in Settings and the event planning tools.
Overview
It is straightforward to export data from Mazévo. Generally, when exporting the data, you'll have a choice between exporting to an excel or pdf document.
Below is an example of how to export a list of event types. The process is the same for all data that you can export.
At the top right of the grid, you'll find the export option.

Clicking on the export link will present a choice of exporting to excel or to pdf.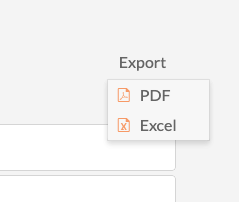 The results will automatically be downloaded into the browser's download folder.
In addition to exporting all configuration settings, you can export from the following functions in Mazévo:
Find Events
Activity Log
Event Calendar
Organizations
Contacts
Manage Task
Analytics
Revenue Analytics
Resource Usage