How to Move a Booking
Mazévo allows you to quickly move bookings from one event to another or even to a new event. Moving a booking also moves all of the resources associated with the booking.
To move a booking:
1. Locate and open the event that contains the bookings you want to move using any of the tools in Mazévo. Learn how to open an event.
2. Select the booking(s) to be moved and select the Move tool from the toolbar.

3. Select the destination for the bookings. This can either be an existing event or Mazévo can create a new event. The new event will be a copy of the existing event.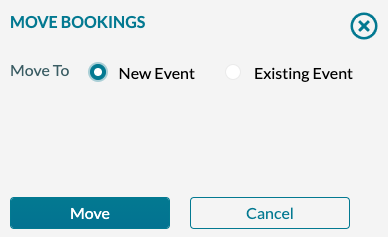 4. Press Move to complete the process. The destination event will be opened in the browser.