All requesters in Mazévo have access to My Events. Simply stated, My Events displays all of your current and past events in chronological order. From My Events, you have the ability to drill into any event and view additional information.
Navigating to My Events
On the main menu for both the web and mobile app is a link labeled My Events. Clicking on that displays the list of your current events.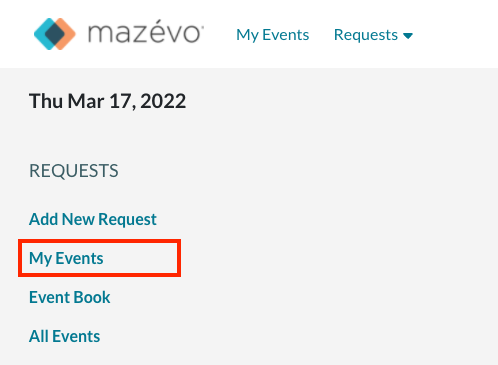 Understanding what My Events displays
My Events displays any event that you are the primary contact and any event you are associated with as a secondary or billing contact. In addition, if your system administrator has turned on the option, you will see all events for organizations you are associated with as a contact.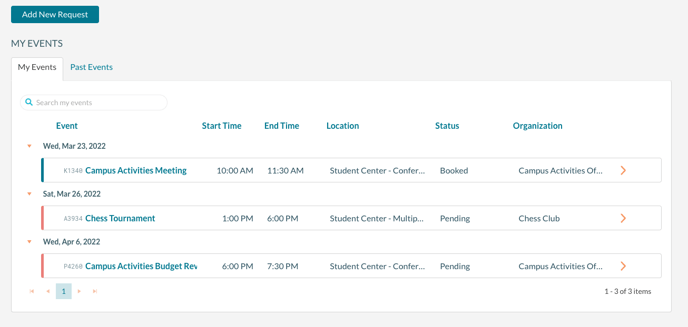 Current events are displayed on the first tab, while past events are displayed on the separate tab.
Under the status column, you can see the current status of each event. Five different statuses can be displayed for your events. They are:
Pending - The event is still being processed by the reservation office.
Booked - The event is all ready to go.
Canceled - Displayed for events that you have canceled.
Denied - The reservation office has denied the event.
Other - Check with your reservation office.
Seeing the details of your event and making changes
From My Events, click on the event name to open the event. You can make changes to the entire event from this screen by pressing the Change Event button.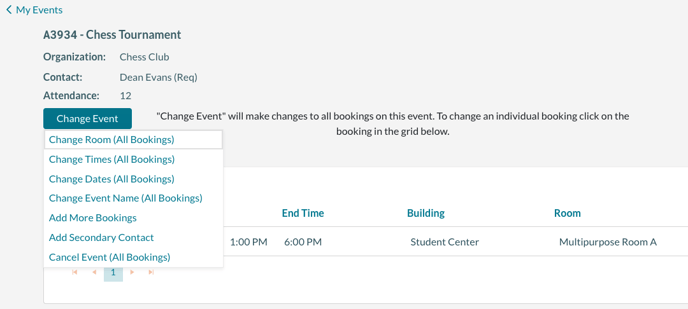 The changes you can make to the event include changing the room(s), date(s), time, or the event name. In addition, you can add additional bookings and contacts to the event or cancel the entire event.
To make changes to an individual booking (date/time/room), click on the date and use the Change Booking button.
If you make changes to your request, the status will be changed to Pending and the event will need to be re-approved by the reservations office.