A Mazévo user with the oversight role (approver) has a tool specifically designed to help them manage the event approvals requiring their attention. This function, My Approvals, is available on mobile devices, as well as on the web.
Overview
My Approvals groups approvals by booking date (first booking date on events with more than one booking) and then approval type. Generally, event approvals are automatically visible in the My Approvals tool, either when an event is created, when an event planner activates an event approval, or as changes are made to events that trigger the need for a second review.
Note: If the approval can be managed by more than one approver, it is displayed for each approver, and the first approver to change the state of an event approval changes it for all of the approvers.
To use the My Approvals tool:
1. Go to Events > My Approvals.
2. From the list of pending approvals, select a record to view/modify by clicking it.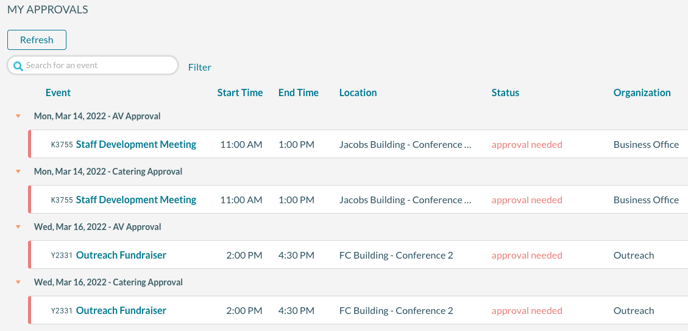 When you select an event approval record, Mazévo shows details for the event. You can view more detail for any booking by clicking the booking date to drill into the booking.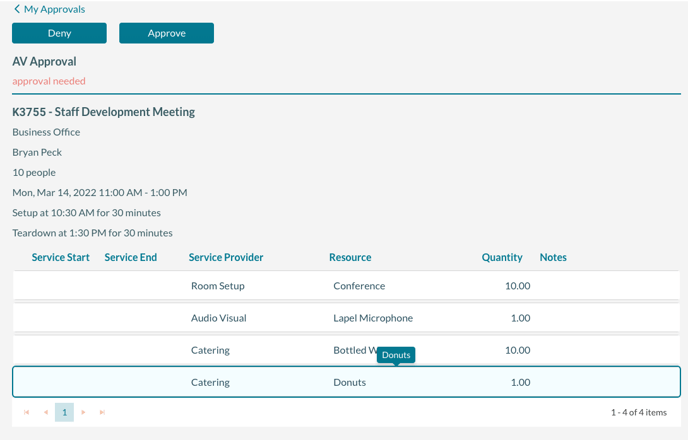 3. Click Approve or Deny to change the state of this event approval then click Yes to confirm your selection. If you deny the event approval, you can enter a note explaining the reason for the denial.
After approving/denying the event approval, you're returned to the list of pending approvals. The item you just modified is removed since it's no longer pending.
Note: You can filter the list of event approvals to include items that have already been approved or denied by clicking Filter and making your selections. If you include other states, you'll be able to see who changed the state of each approval and the date and time of the change.