The Service Order Report displays individual services in a particular date range and for a single service provider. If a booking has multiple service times for the same service provider, each service time starts on a new page.
Overview
The report can be used by service personnel to facilitate preparing orders for delivery and setup. It can be run for predefined time periods or user-specified dates and can be filtered by building, event type, and status.
Once you've set the filtering options, you can either run the report or publish it. Running the report displays results on the screen with the option to download a PDF version for reference or for printing. Publishing a report allows you to set default filtering options for other users or yourself. (Learn more below.)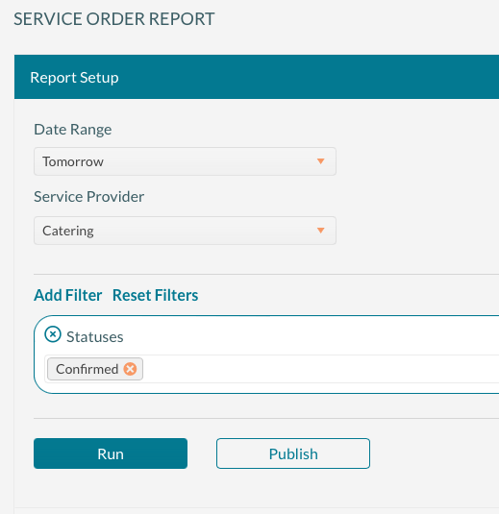 Publishing a Report
Publishing a report makes it easily accessible to you and to other users if you so choose. After setting the filters, you name the report and indicate whether it should be available to others.
In order to publish reports, you must have access to the Event Reporting Publisher role. Users who want to run published reports must have the security role of Event Reporting Viewer.
Printing Service Orders for a single event
You can print the service orders for a single event from the event editor. Just select the booking to be included and select Service Orders from the report menu.