The Mazévo Ops work log is a tool that allows an Operations Manager to view all work activity for a given time frame. The work log shows changes in the state of a service, notes, and photos submitted by workers using the Mavévo mobile app.
Overview
The work log allows a manager to quickly filter and find detailed work activity for a selected date range. The results are displayed in a sortable, exportable grid show below:

The work log can be located under Operations > Work Log.
Log filters
The work log can be filtered by the following elements:
Building
Date Range
Service Provider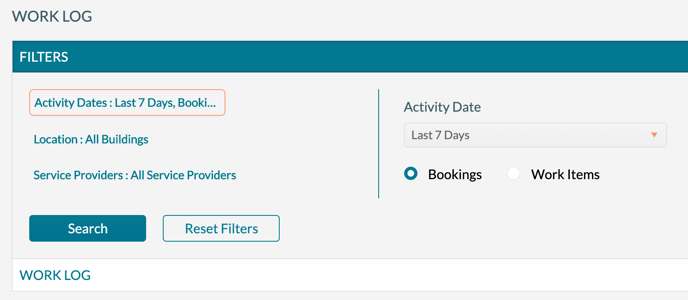 Viewing photos uploaded by workers
When a photo is uploaded from a worker's phone, it is attached to an individual service on a specific booking. The photo will be added to the work log, as shown below. To view the image, click the icon.

Viewing the log for non-event work items
A manager can add additional work that is not tied directly to an booking. These work items are created using the Manage Operations function. The activity on these work items is also available to view in the Work Log by selecting Work Items in the filter section, as shown below: