This article describes the process of creating invoices in Mazévo.
Creating Invoices
Navigate to Invoicing > Create Invoices
On this screen, select the department and the date range of bookings to be invoiced and press Search. If a booking has no chargeable items or has already been invoiced, it will not be included in the results below.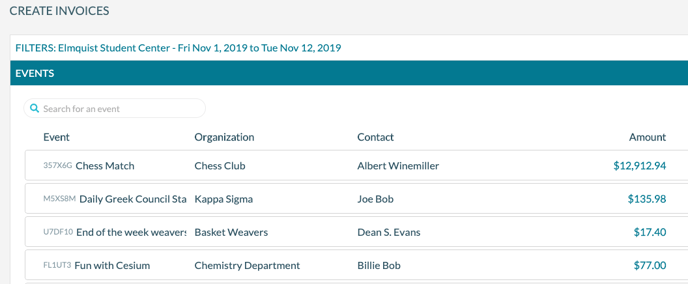 This screen displays the list of events that are available to invoice. These events have chargeable resources (or room charges) that fall within the date range entered and filtering criteria specified on the Invoice Department definition. Please see this article on Invoice Departments.
To preview the invoice for an event, click on the amount for the event and the following screen will appear.
This is a preview of the invoice, not the actual invoice. Review the charges for the selected event. If the invoicing detail looks correct and complete, press the Generate button to create the invoice. Generating the invoice assigns the invoice date and the invoice number and stores the invoice data for later reporting.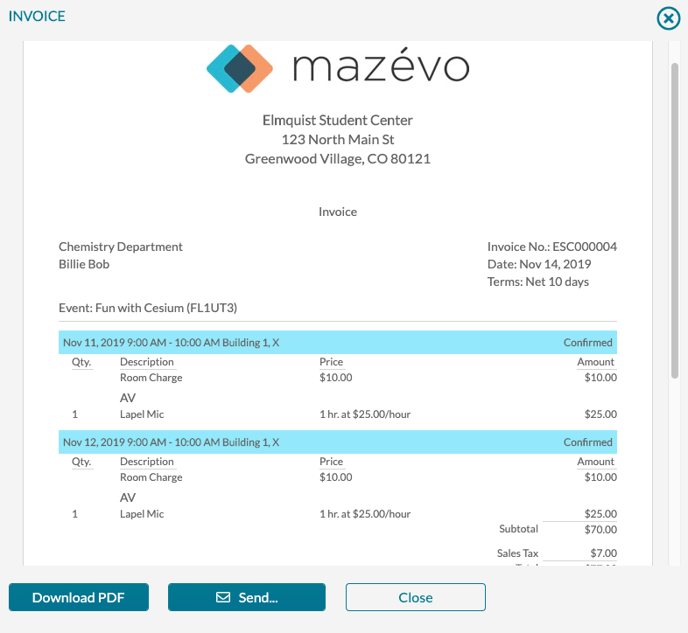 Notice the invoice number has been assigned. At this point, you can download a pdf version of the invoice or you can send an electronic copy to the contact on the event by pressing the Send button.
On the Send Email screen you can enter a message that is included at the top of the email body, you can select which contacts to send the invoice to and you can enter one or more additional emails that will also receive a copy of the invoice. After entering the optional message and selecting the recipients, press Send. After sending the email you will be back at the list of events, however, the invoice(s) that have been completed are marked with a message 'Invoiced'. See below: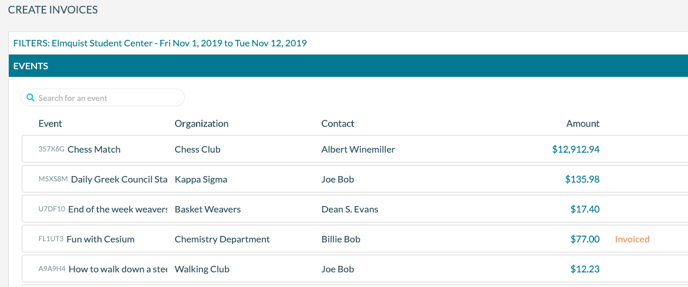 Continue processing each event until all invoices have been generated.