You can configure Mazevo to manage the variety of services required for successful events. Examples of these services include catering, furniture, and audio-visual resources.
Overview
There are three types of records that have to be created in order to use the services features in Mazévo. They are, in order of how they should be created: service providers, resource groupings, and resources.
Service Providers
The first step in preparing to use services in Mazévo is defining the groups that provide services. Examples include:
Catering (food service)
Audio/Visual
Security
Furniture (facilities, physical plant)
You can define as many service providers as your system license allows.
Service providers can be limited to certain buildings or can be made available to all buildings. For example, your New York catering department can't provide donuts and coffee to a building in Denver.
Resource Groupings
If you have lots of resources for a particular provider, you may want to define resource groupings to help you manage and categorize them. When a user (either a requester or event planner) is presented with a list of resources, the items are sorted and grouped by resource groups. For example:
Service Provider

Resource Groups

Catering

Beverages

Salads

Desserts

AV

Projectors

Screens

Sound Systems

Microphones

Facilities

Tables

Chairs

Staging
Resource groupings are not required in order to use the service functions in Mazévo, but they can be very helpful.
Resources
Resources are the individual items that a service provider delivers to the room or services that are provided like room setup. When you define a new resource, you associate it with a resource grouping (if you are using groupings) and a service provider.
You can optionally enter a detailed description of the resource that provides additional information about it. For example, a resource called "Bagels" might have a description like, "An assortment of authentic New York-style bagels."
Think of the description as your opportunity to sell the item to a potential customer or to provide details about it that can't be inferred from its name. The A/V cart could have a description like, "The AV cart is 30"d x 24"w x 30"h. It includes a 25-ft. extension cord."
You can also have Mazévo maintain the inventory of the item by checking the Inventory box and entering the number of units available at any one time. Items that are consumable such as food and beverages should not be given an inventory quantity.
Resource examples include:
6' Tables
Folding Chairs
Coffee
Cookies
A/V Cart
Projector
Whiteboard
Flip Chart w/ Easel
Special Resource Grouping Types
Resources groupings have a particular type. Most of yours will likely use the type called "Resources." However, there are two others available: Notes and Service Description. These types are used to create "resources" that are used to provide additional information or describe the service that is being provided.
Notes
There are several ways to provide notes for a service. They can be added as a service description (if that type of resource has been defined) or entered for each resource added to a booking, or you can define and use a "note" resource. It's a good idea to create at least one "note" resource for each provider. You might call it "Important Information" or "Additional Details." And, you can create many note resources if you like.
Service Descriptions
Service descriptions enable providers to indicate the type of service requested by the customer. For example, a catering provider might have service types like:
Plated Breakfast
Buffet Breakfast
Buffet Lunch
Refreshments
Cocktail Reception
Afternoon Break Service
An A/V provider might have:
Deliver
Deliver and Setup
Pickup
Additional Configuration
After defining your resources, you may want to set prices on some or all of them and mark the items as taxable and subject to service charges like a gratuity.
Pricing
You can define one or more prices for each resource in Mazévo. Each price is associated with a pricing plan. Pricing plans give you the ability to have different "price lists" for different types of events or different types of customers/users. The price for an item can be the same for all pricing plans (maybe coffee is the same price for everybody) or it can vary by plan (internal groups pay less for a data projector than external groups).
When defining a pricing plan, you choose the pricing method: unit or hourly. Unit pricing is a flat charge for a resource. If you use three units of the resource (three gallons of coffee), the extended amount is "3x unit price."
Hourly pricing is a rate for each hour the resource is used. Mazévo automatically calculates the number of hours of use based on the event time, without regard to the setup and teardown time on the booking. So, the extended amount is "resource quantity x hours x hourly price." For resources with an hourly rate, you can indicate a minimum and/or maximum charge (e.g., Projector cost is $25/hr. with $50 minimum and $100 maximum).
For both pricing methods, you can also include a discount expressed as a percentage (0% to 100%). One creative way to use discounts is to show customers the value of something they're getting for free. For example, you can put a 100% discount on a laptop rental to students when external customers pay $50/hr. for the same item.
Taxes and Service Charges
In addition to setting pricing on resources, you may want to have the system calculate sales taxes and service charges on certain items. After creating a tax code, you simply mark the resources that are taxable and the resources that should have a service charge applied.
When setting the tax and service charge flags, it's best to think of an example where the customer or user is taxable and set the items accordingly. Even if the item is taxable, you can still "turn off" taxes for the event if the customer/user is not subject to taxes.
Services Example: Simple Event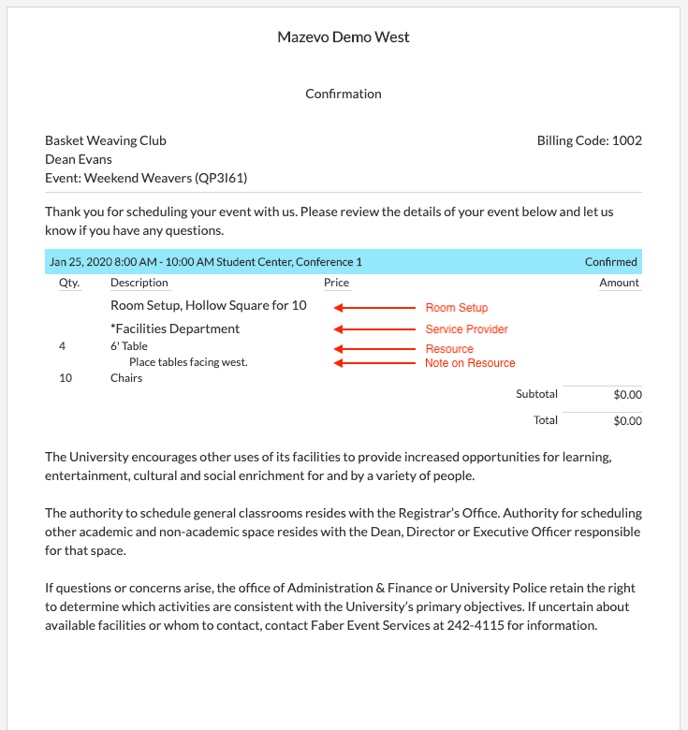 Services Example: Complex Event