New Requester Support Message
You can now configure custom messages for your requesters, so they know who to contact if they have questions about submitting a request. Currently, if they run into trouble, there is no way for them to find out who to reach out to in your organization.
They will now see a need help link at the top right corner of Mazévo that they can click to get help.

We recommend you configure this message today with your department's contact email and phone number. Any Mazévo Global Administrator can configure this message by clicking on Account Settings.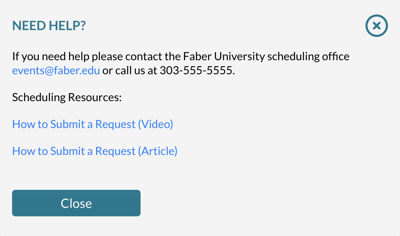 New Overbooked Resource Inventory Notification
Event Planners will automatically receive a pop-up notification if the equipment they are adding or changing on an event has been overbooked. Previously Mazévo would display a notice stating that some of your items may have been overbooked and a link to check the inventory. That message has been removed, and you will now automatically see what items have been overbooked. When copying an event, you will also be alerted if any of your items are overbooked.
Other Changes

Better Handling of Incomplete Requests
If a requester starts a request and selects a room but never completes the request process, Mazévo will create an incomplete booking. These bookings are automatically canceled after one hour if the requester doesn't finish their request. Previously a Mazévo Event Planner could have confirmed the incomplete request, but Mazévo would still cancel it after one hour. Mazévo will now ask the event planner if they want to mark the request complete (to avoid it being automatically canceled) before confirming.
Improved Messaging for Room Capacity Violations from the Event Book
If you add a new booking from the Event Book outside a room's minimum or maximum capacity limits, Mazévo will now provide a message letting you know. Previously you received a cryptic "room not available" message that told you nothing about the capacity.
Service Provider Selector Improved
When selecting a service provider from the event editor, there will be a blank selector drop-down. Previously it always showed you the first alphabetized name in the list.
View Academic Room Details
You can now view an academic room's capacity, image, and other details from the Optimizer, Course Editor, and Academic Book
View Day At A Glance From the Phone
You can now access Bookings, Requests, Approvals, and Tasks from the phone.
Operations - Upload Images to Services From Your Phone
Operations users can now upload images from their phones when using Mazévo in their phone's web browser.
Bugs Fixed
The following issues are now fixed in this release.
Mazévo was not honoring the resource grouping sort order.

The event list and daily operations reports left a lot of blank white space at the bottom of some pages.

The activity log was not displaying the date added/modified column when exported to excel.

Marking events as complete in operations was sometimes causing other events to be labeled as complete simultaneously.

Mazévo allowed users to click the generate invoice button multiple times resulting in duplicate invoices.