New Analytics Dashboard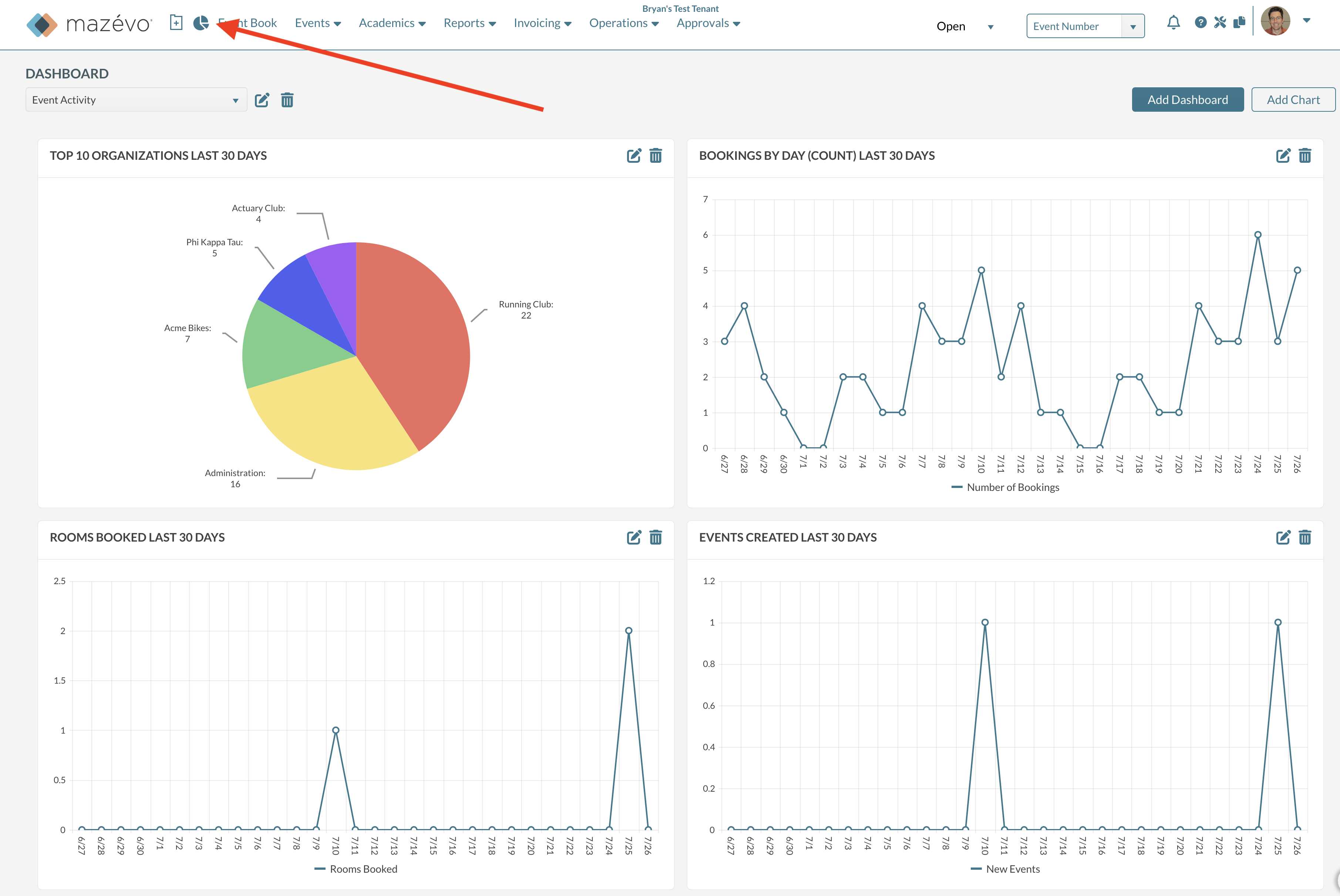 You can now create a customized analytical dashboard for your Mazévo booking data. This new tool lets you quickly build dashboards and combine reports (widgets) to see 30 days' worth of activity trends for your organization. To get started, click the new pie chart icon to the right of the Mazévo logo.
New Dashboard Widgets Include a daily count of the following:
New Organizations Created
New User Accounts
Bookings Created (count or hours)
Bookings By Day (count or hours)
Events Created
Rooms Booked
Emails Sent
Top 10 Organizations
Top 10 Requesters
Top 10 Rooms
Give it a try, and let us know what you think!
Requester Test Mode Removed
We have removed the Requester Test Mode option from the user menu for Global Administrators. This has been replaced by the ability to view the requester menu items from the main Mazévo menu. To enable these menu items, go to Settings > Users, click on your user account, and check the requester check box under the security tab. You can then test the Mazévo request forms with your Global Administrator account.
Displays Courses On Room Signs
You can now display courses imported from your SIS on the Mazévo Room Sign app by selecting the academic status you wish to display. Previously you could not display classes with academic statuses on the room sign.
Filter by Room Tag in Operations
You can now filter by room tag in Operations, Manage Operations, and Review Events. Previously you could only filter by building.
Disable Automatic User Security Policy Updates via SSO
Mazévo will now automatically disable updating a user's security policy via SSO if you have manually set a policy on a user. Previously Mazévo would let you override and change a user's security policy, but it would revert to the SSO setting once the user logged in.
API Updates
New API Call
There is a new API call to return a booking's room diagram if it has one.
Return Disabled Records with Get Organization API call
The Get Organizations API call can now return disabled records if desired. Previously it only returned active organizations.
Bugs Fixed
We fixed several minor issues that kept Mazévo from operating at its best.