Peanut butter and jelly. Shoes and socks. Nuts and bolts. Some things are just meant to be paired. Now, you can add Mazévo and Visix to that list.
We're excited to announce that Visix is our newest technology partner! But they're definitely not new to the digital signage industry. The company is a respected leader in its field. Founded more than 40 years ago, Visix has over 4,000 digital signage deployments on three continents.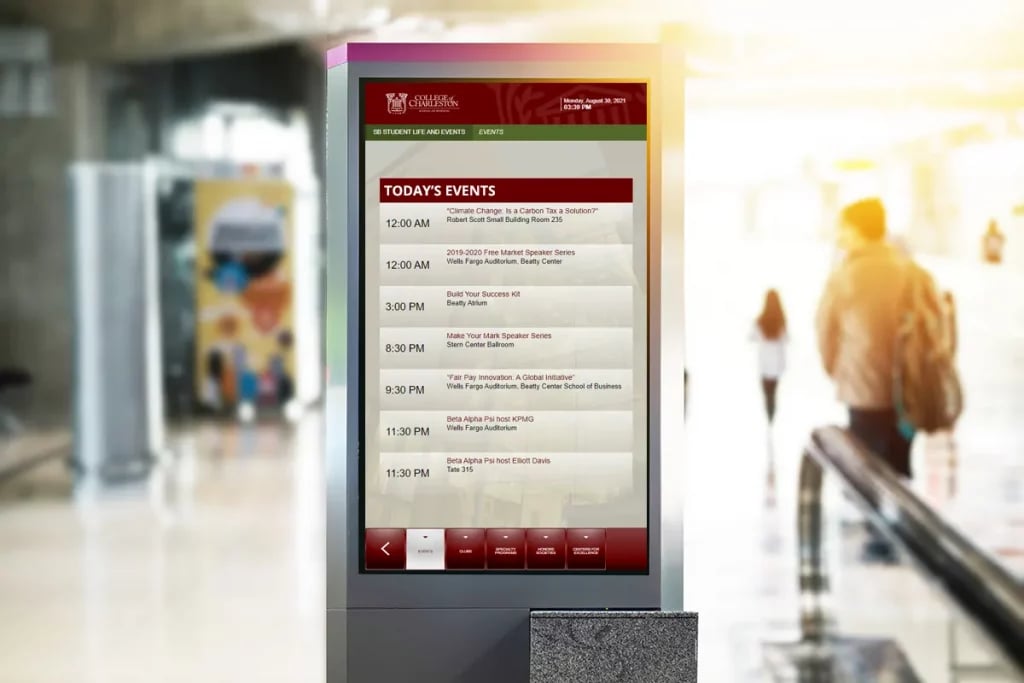 And they offer much more than advanced digital signage solutions. From interactive wayfinding and custom creative, to plug-and-play content subscriptions, if it helps meeting attendees and other visitors use your facilities more easily, Visix provides it!
We know the Visix product suite—and the team behind it—well, having worked with them many times in the past. Their commitment to continuous improvement in their products and the fact that they serve many of the same industries that we do (higher education and K-12 schools, for example) makes them a great partner for us and our customers.
Partners in Paradise: Saving Time and Paper at University of Hawaii at Manoa
One facility capitalizing on the Mazévo/Visix integration is the University of Hawaii at Manoa Campus Center. Users there are very happy with how the two systems "talk" to one another.
They're also thrilled to be saving a significant amount of paper since they don't have to print and post event schedules!
Get Details on Our Visix Integration
One of the best ways to improve the efficiency and effectiveness of your scheduling operations is to craft a comprehensive solution that addresses all the challenges you face. And the best way to do that is to integrate Mazévo with systems like Visix.
While "integration" may sound complicated, in reality, it's very easy to connect your mission-critical, scheduling-focused applications. It's definitely not the painful process it was, in many cases, decades ago!
Contact us today to schedule a live Mazévo demo customized to mimic your scheduling environment. We're happy to answer any questions you have on how our web-native solution can help you get more work done faster and enable you to provide exceptional customer service.