Many of our Mazévo Connect free online sessions feature customers sharing insights on how they use our advanced, web-native scheduling solution. In others, like this one, Mazévo team members present helpful information.
Mazévo CEO Dean Evans leads this session—a "roundup" of several enhancements we recently made to the system.
Find Events
Dean dives into the session by covering changes to the Find Events function in Mazévo. For example, he notes that we've removed paging from the list of events displayed.
It's a simple change, but one that saves time since you don't have to advance to a new page to continue scrolling through a long list of bookings. We've also improved how you navigate using date ranges and added options for Show As Events and Show As Bookings that affect how much detail you see in the list.
In addition, Dean explains that you can now more easily edit the Views you use in Find Events.
Event Editor
We've made multiple changes to the Event Editor. One is that when adding resources to a booking, there is a display at the right that lets you drag and drop the items you've selected to change the order in which they're displayed on confirmations, invoices, operations reports, etc.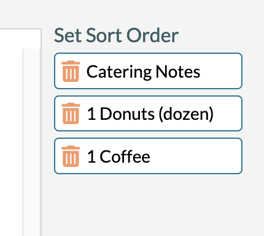 Another modification is that when using tools like Change Event Name, for example, you can reposition those windows. That makes it easier to review information on windows in the background.
As Dean explains, we've also enhanced the Copy Booking utility. Now, when duplicating a single booking, you can not only copy it, you can change the times and room all in one step. He also points out a feature that's been available for quite a while that allows you to move a set of bookings forward or backward to a different time frame.
Invoicing
Finding invoices is now easier than ever, with the addition of new tabs for Organization and Invoice No. If you do billing, these enhancements can be significant time savers.
Printing a batch of invoices is now more streamlined, as well. We've added the ability to find a group of invoices, view them, and then print them.
Operations
Dean explains that we've made several changes in this area. He points out that when looking at a list of bookings in the Manage Operations area, there are columns for Last (Hrs) and Newt (Hrs). Those columns indicate when someone last used the displayed room and when it's scheduled to be used next.

The indication of how long until a room is used next can be particularly helpful to your operations team. It gives them a "heads up" on where they may need to act quickly to "turn" a room for the next event.
There are also new features called File Log Report and Daily Log Report. They involve configurable questions about what happened at your facility on a given day so that you can indicate whether any facility damage was noted, etc., and produce a report for the day.
Calendars
Next, Dean walks through creating public calendars. As he does, he points out new filtering options for Organizations and Organization Types. He also notes that you can enhance calendar listings with "details"—images and other elements—provided by requesters.
We also recently added the ability to create a calendar link for particular entities within an organization—ministries within a church, for example.
The enhanced calendar capabilities go beyond what was available in the "first generation" Mazévo calendar. So, Dean advises viewers who are considering creating a calendar for their organization for the first time to use the new calendar function.
Reports
Dean goes on to explain that we've made some changes to the "look and feel" of report filtering. He demonstrates the ability to select and use a new type of filter for a report in the Event List.
There's also a Reset button to delete the filters currently being used. However, Dean provides some cautions about using filters—you'll want to check them out if you run reports and tend to modify the filtering.
In addition, he addresses some changes we've made to the Revenue Analytics report—which is like the General Ledger Distribution report in EMS—and Room Cards.
Academics
In recent months we've also made many enhancements to the academics functionality in Mazévo. They include full two-way integration with a student information system (SIS), handling of academic conflicts, and others.
Requesting Functionality, Enhanced Importing, and More
To improve communication with requesters, we've added a Notes field they can use to include important information about their event. In addition, they can add a room diagram.
We've also made it easier to import rooms, resources, organizations, and contacts. And, administrators now have a tool for canceling all the bookings on a given day in a specified building—like if inclement weather or a serious maintenance issue means the building can't be used today.
New Features, No Hassle!
With Mazévo being a web-based scheduling solution, the features we add to it are available to our users immediately. No action is necessary on their part!
Want to see the functionality above—or any Mazévo feature—in action? Contact us to schedule a live demo tailored to your scheduling environment.