The University of Minnesota, Twin Cities, is a research university in Minneapolis-St. Paul. The oldest and largest campus in the University of Minnesota system, it has facilities in Minneapolis and nearby Falcon Heights, a St. Paul suburb.
The school has more than 50,000 students, ranking it among the largest main campus enrollments in the U.S. Not surprisingly, the University's facilities are busy throughout the year.
Coffman Memorial Union: A Hub of Activity at the University of Minnesota
There are two student centers at the University of Minnesota: The older St. Paul Student Center and the Coffman Memorial Union (CMU). The latter is where you'll find Joe Thoen, Event Services Director, working hard with his team to ensure that meetings, events, and other gatherings at the unions go smoothly.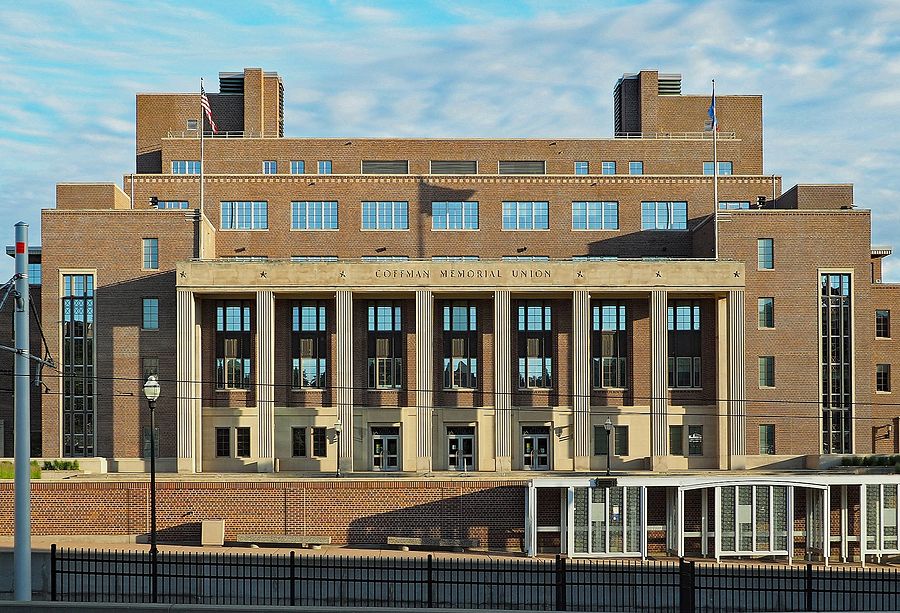 Joe has been with the unions for over 20 years, starting as a student AV technician and working his way up. So, he understands what it takes to successfully manage all the details of a never-ending stream of events.
The bulk of the bookings Joe and team manage (more than 4,200 annually) are in the CMU, as the older facility is smaller and slated to be demolished and rebuilt soon. Of the CMU events, approximately 60% are hosted by student organizations, with the remaining 40% of reservations made by campus departments. And events often require some of the nearly 300 resources defined in Mazévo or offerings from more than 30 service providers.
Leaving EMS for a Better Solution
Before implementing Mazévo, U of M had used the Event Management System (EMS) for 20 years. But when Joe assumed the role of Event Services Director, there was an opportunity to move to a more modern, web-based scheduling solution, and Joe was happy to do so!
As he notes about EMS not being a web-native solution, "If it wasn't on your laptop or desktop, you couldn't interact with it." When student employees were away on breaks, they couldn't stay on top of tasks. "They couldn't do anything for us during those times because they couldn't get into EMS. And here was this other platform where they could be at home and still working if they chose to. Plus, we were getting fed up with the poor customer service from EMS."
Ultimately, it was time to make a change.
What was the team looking for in a new and better scheduling solution? "We were EMS 'power users,' so we needed a scheduling platform that could handle all aspects of event scheduling," Joe says. "And I also wanted great customer service because EMS was not providing that. In addition, it had to be web-based, as, with the pandemic, you could just see how things were changing."
An intuitive interface was also a priority. Joe points out that workflows in EMS were getting increasingly complex as an aging system architecture was trying, unsuccessfully, to accommodate evolving scheduling needs. "It was getting clunkier to deal with for our students," he says.
A Transition That Just Made Sense
From Joe's perspective, U of M's move to Mazévo also made sense for other reasons. He remembers realizing, "There's this product called Mazévo. And it was developed by the people previously behind EMS. They were fantastic to work with. And their knowledge of EMS probably means we can make the transition pretty easily."
Plus, for all the negative impact the pandemic had on people's lives, the dramatic decrease in in-person events created a window for switching systems. So, as Joe considered the switch, Mazévo "checked so many boxes very quickly." For him and his team, "It was a no-brainer."
Joe also took advantage of the Mazévo "sandbox"—a test environment where he could get to know the system and understand its benefits. Seeing EMS on one screen and Mazévo on another made it easy to compare them, leading to a transition that was "so simple."
Joe explains that you see a great deal of information online about how switching scheduling platforms is challenging, but says, "I don't want to downplay the difficulty by any means, but our move from EMS to Mazévo was about as easy a transition as you could possibly have."
Hear what Joe Thoen loves about Mazévo
Making Student Workers Happier and Customers More Self-Sufficient
Joe doesn't train new student workers himself. But he knows that students feel comfortable clicking around and exploring Mazévo's clean, user-friendly interface, and he is "100% sure that training is quicker and more efficient than with EMS."
Student workers are happier to have a modern, web-based scheduling solution, and so are groups that use union facilities. Joe explains that he and his team used to spend a significant amount of time walking people through various processes in EMS, whereas with Mazévo, "It'll be about a 10-minute conversation. That's all it takes to get them comfortable with how to find information on their events."
And the plan is to go even further in helping customers help themselves. While there will always be those who prefer to have the scheduling department make changes for them, increasingly, people are happy to do everything from finding information to making event changes when authorized.
Leveraging the Mazévo Mobile App
Another selling point for Joe was the availability of the Mazévo mobile app. He shares that the scheduling department is two floors up and across the building from the CMU's busy Great Hall. Consequently, time spent running back to the office to check information on a computer or get printed documents is a significant amount of time wasted.
With the mobile app, "You can just be in the Great Hall and pull out your phone to see a room diagram, information on the AV requirements for an event, or whatever you need." In fact, he believes that the app is the primary way that student workers—who have grown up with 24/7 access to all types of information—get the event details they need throughout the day.
"Amazing" Customer Support
Asked about his team's experience with technical assistance for their system, Joe answers: "You guys are amazing at support. If I were to contact any other company, I'd probably get a response a week later. From you guys, it's about five minutes. Your support is through the roof. It's fantastic."
He goes on to say that knowing who would be supporting Mazévo and what kind of assistance he could expect was another factor in his comfort with switching systems. It's also why his advice to people considering making the move is: "Just do it! There are zero reasons not to switch. Nobody I've talked to who has moved from EMS to Mazévo has had any issues or frustrations."
Joe also appreciates that Mazévo is continually enhanced, and updates require no IT involvement. New functionality is just available the next time you log in. "It's not some painful two-year process," he says, smiling and shaking his head.
Looking for a Better Event Scheduling Solution?
If you have questions about how you could use Mazévo in your environment to streamline event management and make your customers and scheduling team happier, let's talk! And if you're interested, we can provide a live, online demo customized to your needs.
Contact us today to schedule your session!