Oregon State University is located in Corvallis, Oregon. Its gorgeous, lushly landscaped campus, nestled in the Willamette Valley, is the perfect setting for an amazing college experience. But it's not all about the scenery, of course! The University's website points out that its academic programs hold some impressive rankings, including:
#2 in forestry worldwide

#3 in oceanography worldwide

#5 best online bachelor's degrees

#2 best agricultural school in the U.S.
The school also has several notable graduates, such as:
Linus Pauling, the only recipient of two unshared Nobel Prizes (for Chemistry in 1954 and Peace in 1962)

Doug Engelbart, inventor of the computer mouse and several other technologies

Jen-Hsun Huang, cofounder, president, and CEO of graphics-processing company Nvidia

Dick Fosbury, inventor of the "Fosbury Flop," the now-ubiquitous back-first technique that revolutionized the sport of high jumping
In other words, from science to sports, OSU is a hotbed of creative thinking. And, as you would expect, its campus is a busy place, from morning to night, as is the Memorial Union.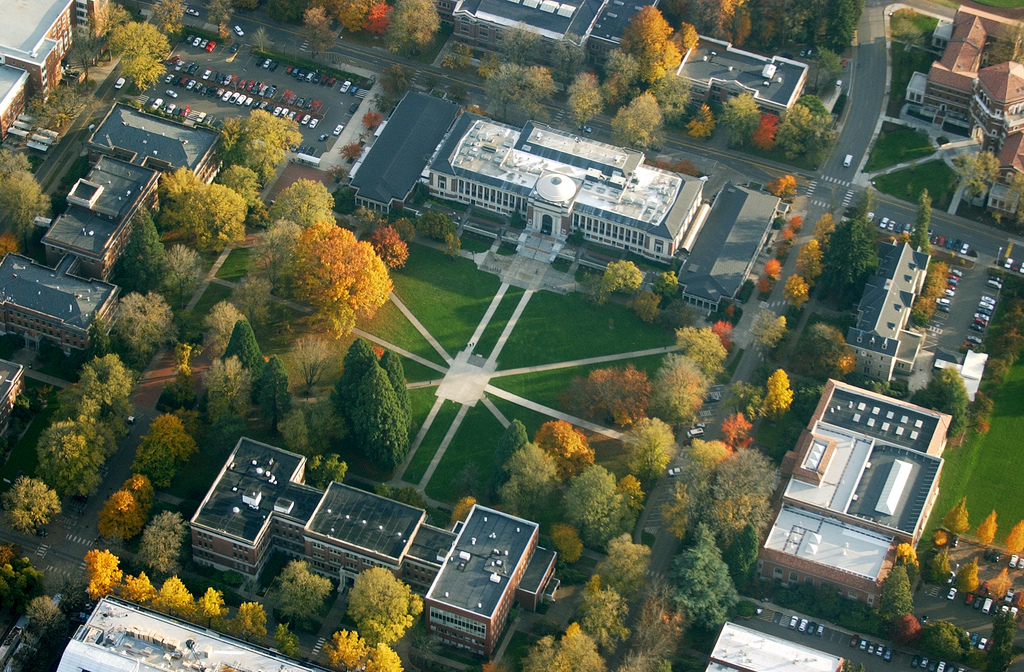 Oregon State University Memorial Union Quad
Oregon State Memorial Union by the Numbers
Looking at the past year as an example, here are some facts and figures about the University and the Memorial Union's scheduling operations:

35,239 total OSU students with one or more from all 50 states

13,250 bookings at the Memorial Union

1,200 new online client user accounts
The scheduling team uses Mazévo to manage AV services, equipment, security, and labor needs, including setup crews, technicians, "day of" event management, etc. Reservations in the Union are almost exclusively (99%) for campus community clients.
Using Mazévo has helped Union staff articulate in real time the quantifiable work and value it adds to the University and the student experience in exchange for the student fees taken in to run the operation year to year.
EMS to Mazévo: Making the Move to a More Advanced Solution
It seems fitting that a school focused on finding better ways to do things would switch from a legacy system like EMS to a cutting-edge, web-native solution like Mazévo. But what exactly caused them to make the move? We recently talked with Mike Mathews at OSU about that.
Mike plays a pivotal role in OSU's event scheduling operations. He oversees and coordinates all events at the Memorial Union, is the go-to system administrator for Mazévo, and handles other tasks at the Union as a project manager.
He has worked for the University in various capacities for nearly 20 years, so he knows what it takes to ensure meetings and events run smoothly. In fact, he helped implement EMS at OSU many years ago. As for why the Union made the move to Mazévo, Mike puts it very plainly: "EMS broke."
He explains that EMS determined there was a bug in the system, and he worked with the company's support team for "literally months" but ultimately was told the problem was beyond what support could address. And then they simply never got back to him.
Their lack of response was unacceptable since the bug was causing significant problems, including preventing users from booking space online. And beyond that specific issue, Mike says EMS "had not kept pace with the times."
He notes that younger technology users today expect to do everything on their smartphones, "and EMS couldn't do that for us." On the other hand, Mazévo enables students to interact with the scheduling department in ways they're familiar with. "Mazévo has moved our scheduling forward about 20 years," he adds. And the fact that Mazévo is a cloud-based scheduling solution essentially eliminated any need for University IT support.
Plus, it's designed and supported by people he trusts—the team that developed EMS decades ago before moving on—so while switching to a new scheduling system is a big endeavor, he was confident the transition would go smoothly.
He admits he initially "kept his foot on the brake" regarding the data migration but eventually took our advice and let 'er rip, and was happy he did. "My advice to anyone considering this is to find a slow scheduling period and just pull the bandaid off and make it happen. You'll instantly see the results are there," Mike says.
He notes that the Union took advantage of the Mazévo "sandbox" to test things out for a few months but then was ready to dive in. And once the switch was flipped, they were scheduling in earnest within a week or two.
Hear what Mike Matthews loves about Mazévo

How the Memorial Union Is Benefitting From Mazévo
From Mike's perspective, another major area of improvement since OSU switched to Mazévo, is how much easier it is to create new user accounts. In EMS, he and others had to spend a significant amount of time simply vetting people who had asked for an account. Did they actually work for the University? Did they have budget authority under the correct department to reserve space? There were many things that had to be researched.
With Mazévo's single sign-on (SSO) capability, Mike knows the information on someone asking for access is valid. And if they later leave the University, the school deactivates their account, and that change automatically prevents them from getting into Mazévo.
The Union has also defined a set of privileges that can be given to OSU students by default. This is a huge timesaver for Mike and others.
Mike also indicated in our conversation that Mazévo has enabled a much more self-service approach to booking space. Students can stop by the Information Desk, scan a QR code to get access to the system, and start making reservations where allowed. Within minutes, they're essentially self-sufficient.
In addition, dealing with services like catering and equipment is a breeze with the Mazévo mobile app. And Mike has found that users prefer to leverage their own phones versus the department's iPads, so there's less maintenance and upkeep of those devices.
A "Phenomenal" Support Experience
Asked about the support he's received for the Union's Mazévo system, Mike describes it as "phenomenal."
He laughs as he says, "In this day and age, you just don't expect to send an email or pick up the phone and communicate with a person. To submit a support ticket and have the CEO of a company get back to you within minutes is not something many companies can say they offer. The experience has just been wonderful."
Simplicity: The "One Thing" Mike Likes Most About Mazévo
For busy event professionals, nothing beats having a system that just works. Mike notes that if he had to share one thing he likes most about Mazévo, it's the system's simplicity.
"Mazévo is just so clean and simplistic in its operation, which makes it very intuitive for everyone," he says. As the person responsible for getting the campus community familiar with the new scheduling solution, he's thrilled that, "My interactions with people to get them up to speed has been minimal. And the importance of the time we're saving can't be overstated."
Looking ahead, Mike is eager to continue exploring Mazévo's functionality and expanding on its advantages but is very pleased with where they are today. "It's been a great experience, it really has."
Learn More About How Mazévo Can Benefit Your Organization
What would it be like to use Mazévo in your environment? We can show you in a live, online demo customized to your scheduling challenges.

Contact us today to schedule your session!