Handling event requests efficiently is essential to effective scheduling department operations—from helping staff stay organized to providing excellent customer service. Allowing customers to submit space requests online can be particularly beneficial in that regard.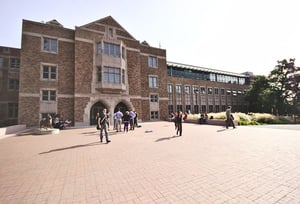 In a recent Mazévo Connect webinar, two staff members at the University of Washington's Husky Union Building (HUB)—Manager of Operations, HUB Games, Jason Hanson, and Supervisor, Information Services, Kysen Henderson—shared insights on how their streamlined process creates less work for the scheduling department and makes customers much happier.
Scheduling the HUB's Entertainment Facility: "So Much Better" With Mazévo
Jason begins the session by describing the HUB's business relationship with Mazévo as more like a supportive family relationship. He then describes the entertainment center he runs as the size of two high school football fields, with a bowling alley, pool hall, esports area, etc.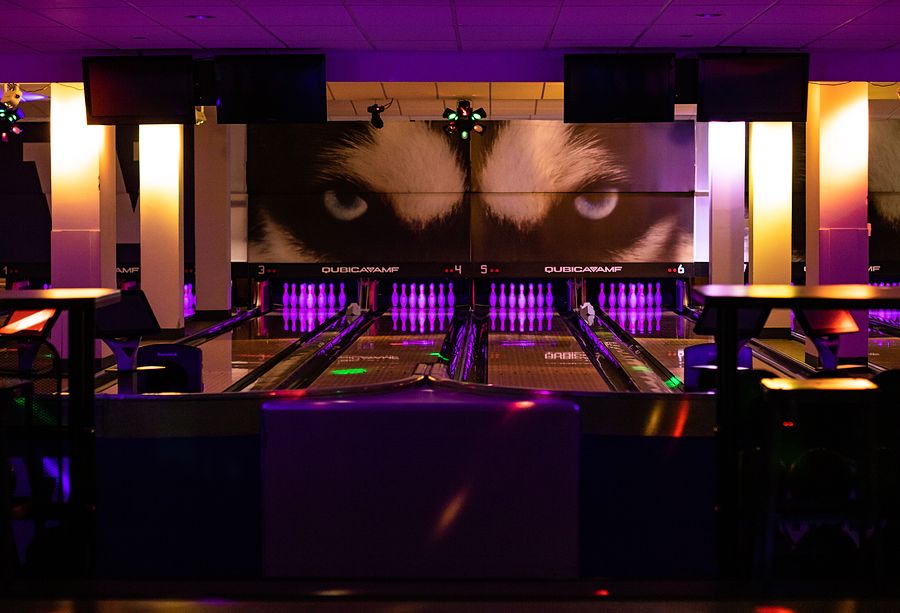 HUB Games Bowling Alley
Jason and his team of student workers handle more than 800 reservations annually. Approximately 60% are for UW departments or students, with the other 40% being for off-campus entities and individuals. He says the fact that space reservations and event coordination capabilities are in one system is crucial for his team.
Jason acknowledges that he was happy with his pre-Mazévo processes but laughs and says that within a few months of switching to Mazévo, things were "so much better." He goes on to explain their old, information-heavy, somewhat confusing method and contrasts it with today's streamlined, more intuitive approach.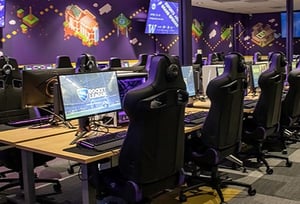 He notes that the old process had several failings, from leaving requesters wondering if they had secured the desired space to his team having to manually enter event details into spreadsheets and update them frequently as customer needs changed.
HUB Games Esports Arena
As Jason puts it, Mazévo takes the process "from confusing to fun for the customer." And because they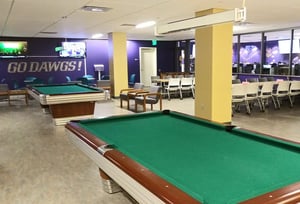 can see photos of the center's various games and activities, they tend to reserve additional items, which helps the facility generate more revenue. (He shares that in one month on Mazévo, the facility made more from "add-ons" than it had in the year before implementing the system!) Plus, customers' access to more information helps eliminate space- and resource-related confusion and conflicts.
HUB Games Pool Hall
He goes on to describe how various Mazévo features, and the system's flexibility, have reduced his team's workload while improving the customer experience. For example, he explains how easy it is for customers to piece together events that involve different aspects of the facility (bowling lanes, gaming room, etc.) on their own, with little or no back and forth with the scheduling team.
Jason then demonstrates the process of adding a new event.
Managing Requests in the Union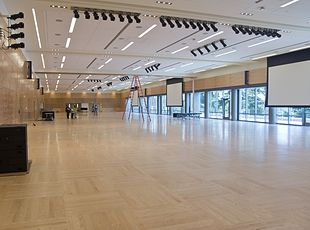 Kysen begins her section of the presentation by explaining that she led the HUB's efforts to implement and configure Mazévo. The HUB has approximately 20 reservable spaces, ranging from smaller conference rooms that can accommodate up to 30 attendees to large ballrooms with maximum occupancy of 1,400.
Husky Union Building Ballroom
She notes that the HUB had encountered a few sticking points with taking online requests using other systems in the past. For one thing, the process customers had to follow was a bit tricky. There was also a significant amount of work involved in creating and managing customers' user accounts.
Kysen continues by explaining the use and viewing of booking statuses, previously and now. She shows the statuses used at the HUB and the behind-the-scenes selections that affect how they function.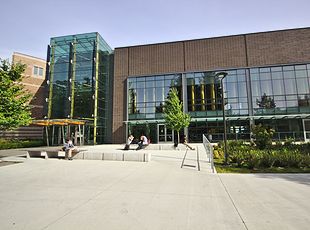 Next, she opens a typical event and explains some of the considerations for managing it. For example, she notes that customers can request specific resources, but others are at the scheduling team's discretion. This prevents a requester from asking for something they don't really need. The HUB also provides information on deadlines for making changes in the quotes provided to customers.
Husky Union Building Southeast Entrance
Then Kysen shows the process from the requester's perspective, demonstrating how easy it is to submit a request from the HUB website, including that single sign-on (SSO) capability streamlines things significantly. She also explains how the HUB manages user security, how room capacities affect requests, etc.
And finally, Kysen demonstrates how customers can edit their existing events—a "scary" scenario that Mazévo takes the risk out of!
She wraps up by sharing that Mazévo's user-friendly interface has produced a "huge increase in requests" due to people seeing how easy it is to submit them.
How Could Online Event Requests Benefit Your Organization?
If you have questions about online request functionality after watching "How the University of Washington Takes Event Requests Online" (or before watching the recording, for that matter!), we're happy to answer them and provide a live, online Mazévo demo.
Please reach out at your convenience!