A room reservation is the foundation of an event. But the effective coordination of equipment, catering, A/V, and other required services is also vital to its success.
Mazévo Ops helps organizations manage these details efficiently and effectively. The result is events that run smoothly and service teams who experience less stress and fewer "fire drills."
A recent Mazévo Connect live webinar titled "How To Use Mazévo Ops To Improve Event Service Delivery" provided valuable information on this powerful feature, including:
Insights on who can benefit from Mazévo Ops

Best practices for using Ops to improve communication with service providers

Advice how to start using Ops instead of paper reports
If services are important to your organization, you should check out the recording! We've also summarized the session below.
"Operations" Defined
For us at Mazévo, "operations" refers to the actions associated with preparing for an event. That can include arranging tables and chairs, setting up equipment, delivering catering items, etc.
Traditionally, event professionals have addressed operational needs by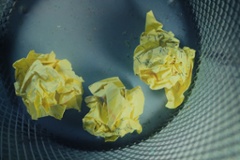 printing reports and distributing them to their setup teams. That approach has several drawbacks, of course. It's time-consuming, uses a significant amount of paper, and only provides a snapshot that doesn't keep workers informed about subsequent changes.
We knew from experience that there had to be a better way, which led to us developing Mazévo Ops.
Mazévo Ops From Multiple Perspectives
One reason scheduling departments can be reluctant to move away from printed reports and to a digital solution is they have a hard time envisioning what that will look like. So, this Connect session involves me playing the role of a team member using Ops on my phone and Mazévo trainers Joe and Wendy acting as a team member at their desk and a services manager, respectively.
I start by explaining that you don't need an app to use Mazévo Ops on your phone. You simply access it through any web browser on your iPhone or Android device. I also point out how simple and intuitive the menu is when I first access Ops. It's all about making it easy for users to get the information they need.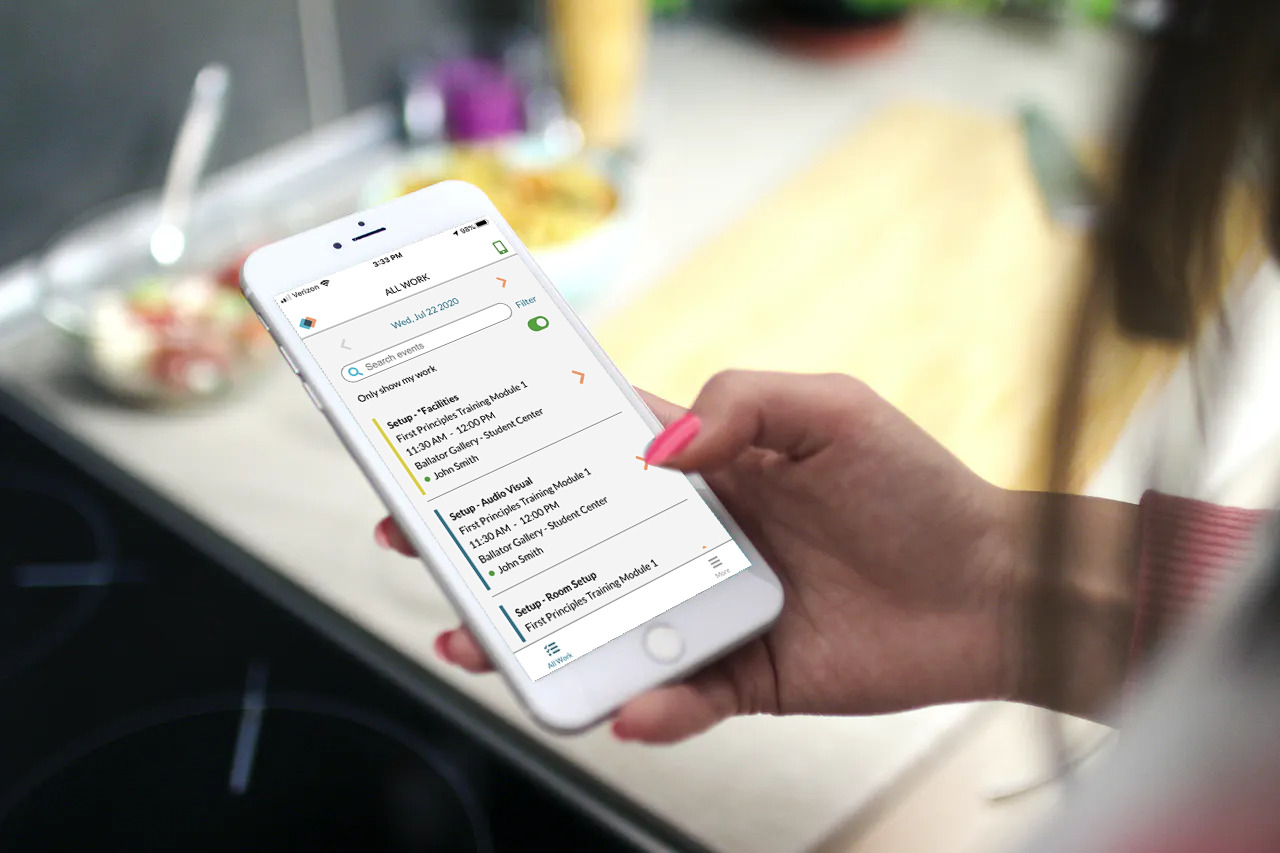 In our example, my job is to handle catering services. One tap on Operations, and I see a listing of today's events with catering requirements. For those events, there are also icons as quick visual indicators for other event details.
I demonstrate that clicking an event provides more information, including the ability to view a room diagram (if one has been attached to the event) or to click on a "service provider" (Audio Visual, Catering, etc.) for details.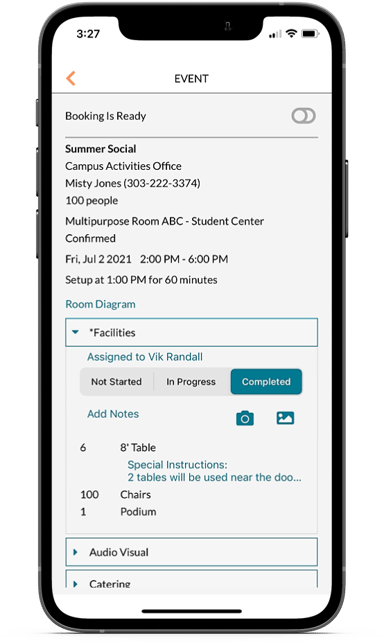 Taking things to "level 2," you can tap Completed to indicate that you've addressed a task. Mazévo then automatically notes who completed the item, with that information available to others. You can also attach pictures or additional notes related to this service. And after you "complete" the task, the system notes that fact with a green checkmark visible to anyone who views this event.
I also explain "work items," which are tasks not associated with bookings (sweep the lobby, etc.).
Joe, the "Friendly AV Technician" at His Computer
The session continues with Joe showing what Ops looks like when used from a computer. He starts by clicking Manage Operations and then jumping into Settings to demonstrate how they affect what a given user sees (events in specific buildings, with particular statuses, etc.).
He also points out that what's displayed is similar to what you see on your phone, but with some additional information and features. He mentions Next (Hrs) to note how long before the next event starts in a room (which helps with task prioritization), hovering over a service to view the details, etc.

Wendy, the "Boss"
Next, Wendy takes control, proudly pointing out that a woman was made "the boss" in our scenario! She shows that her view of Mazévo Ops is similar to mine and Joe's, going on to say that she'll demonstrate what we refer to as "level 3" operations management activities.
This includes assigning setup and teardown tasks to team members.
Wendy then answers a question about determining which tasks have been completed by showing the Work Log functionality. She also looks at Work Items and assigns some of these general (i.e., not booking-specific) tasks, noting that you can indicate the day and the time that the person should complete the job and also that you can define recurring tasks. Wendy then circles back to discuss how you set your system up to leverage all of this functionality.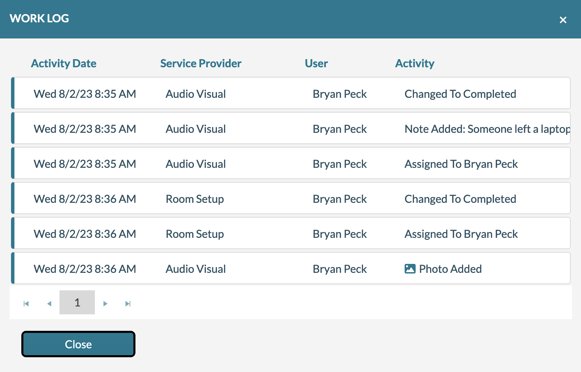 Other level 3 features are the ability to indicate that an event is "Ready"—meaning all the prep work has been completed—or has been changed. The change icon indicates that important event details have changed within the last two weeks.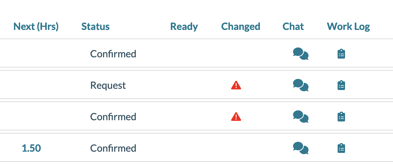 Making the Switch to Mazévo Ops (It's Easier Than You Might Think!)
It's common for organizations to be relatively happy with (or at least accepting of) the way they're handling event-related services today with printed reports. And if they are, the thought of moving to Mazévo Ops may be unappealing. "If it ain't broke…" the saying goes!
But the more you learn about the improvements to your operations from using Ops (greater efficiency, improved communication, fewer mistakes, etc.), the more you realize making the switch is worth what turns out to be a fairly minimal effort. And… It's important to understand that your transition doesn't have to be an all-or-nothing thing.
It works just fine to keep providing paper reports to those who insist on them while letting other users start leveraging Ops. That sort of "mixed mode" can help increase the comfort level for everyone regarding the switch.
You also don't have to dive right into what we've called level 2 and level 3 operations management. Simply having people view information on their phones will start moving your department toward adopting Ops.
Q&A… And a Mazévo Demo?
At the end of the webinar, we address some excellent questions from attendees in a lively Q&A session.
If you have questions about Mazévo Ops or the system in general, we're always happy to answer them. Reach out at your convenience. And, if you'd like to see our fully web-based scheduling solution in action, schedule a live Mazévo demo tailored to your wants and needs!