Your organization has asked you to take on the role of Mazévo Global Administrator. You appreciate the confidence they've placed in you, but now you're wondering how to get up to speed quickly and develop the in-depth knowledge needed to manage this powerful scheduling solution.
First, you should take comfort in knowing that Mazévo is an intuitive system built from the ground up to be easy to understand and use. You should also be aware that training is available from our friendly and knowledgeable product experts. And we also provide exceptional customer service.
Still, there's more you can and should do to ensure you fully understand how your organization uses and benefits from Mazévo. That perspective positions you to be confident and effective in your new role.
Below are some actions every new Mazévo Global Admin should take.
Get Some Background on Mazévo at Your Organization
To properly administer a system, you must first know why people use it. Here are some questions you should ask the decision-makers who were behind the purchase and implementation of Mazévo:
Why did we need Mazévo?

How was scheduling done before we purchased the system?

What objectives are we trying to achieve using Mazévo?

How well are we performing against those goals?

Have we identified areas where we can expand or improve our use of the system?
Answers to these types of questions will give you a solid foundation for continuing research on how, when, why, and where your schedulers leverage Mazévo.
Learn How Schedulers and Ops Teams Use Mazévo
You might not have to make reservations as a Global Admin. But it's essential to understand how your scheduling team does. Questions you should ask scheduling managers and "power users" include:

How do you make reservations?

Who provides services for bookings, and how do you interact with them?

What is the process for getting the necessary approvals?

How do you generate invoices and stay on top of receivables?

What method is used for defining new users and managing their access?
Ideally, the answers to these questions should include demonstrations of the actions taken.
Learn About Available Training Resources for Global Admins
Whether you need training now or won't until sometime later, it's a good idea to connect with a Mazévo consultant/trainer. Simply send them a note saying, "I'm the new Global Admin for our organization. I'll likely be in touch with questions soon!"
They'll be glad to hear from you, and just getting their response and knowing they're eager to help should be reassuring to you. If you don't know who to contact, you can use our contact form and we will be in touch.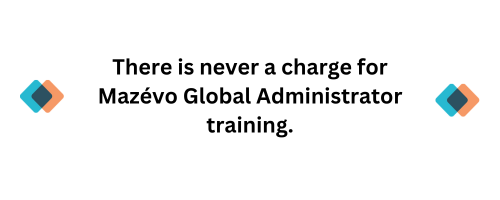 As a Global Admin, you'll also want to get notifications about system updates. To do that, visit www.gomazevo.com/updates and click the Subscribe button at the top right.
And finally, you should be aware you have access to Knowledge Base that's brimming with helpful information on a vast array of topics and an ever-growing list of videos on our YouTube channel. Nothing beats being able to do a quick search and find the information you need!
Conduct a Mazévo "Health Check"
Once you're familiar with Mazévo, it's crucial to assess how the system is currently functioning. A Mazévo health check can help you identify any issues with your Mazévo implementation and optimize your organization's use. Here are some simple things you can do to get started:
Determine which features people are using.

Identify features that aren't being used—and learn why they haven't been implemented.

Review user accounts and delete those no longer needed (especially Global Admins).

Assess user security and add/remove permissions as appropriate. (Note: We can help you understand security roles and why "just making everyone an Admin" is not advised.)
If you're looking to conduct a more comprehensive health check to maximize your Mazévo experience, don't hesitate to get in touch with us. We'll connect you with a Mazévo expert who will perform a thorough review and offer recommendations for quick wins and long-term success.
Provide Training to Your Team
Your deep understanding of the organization's scheduling processes and knowledge of how Mazévo can help achieve those objectives make you the perfect candidate to train system users. And we can ensure you're well-equipped for that task by pointing out key educational resources.
Or you might choose to "train a trainer," who can take the lead in educating your organization's Mazévo users. Either way, getting people the insights they need to use the system effectively will make your life much easier!

Big Responsibility. Less Effort Than You Might Think!
From how we designed Mazévo to how we support you as a Global Administrator, you'll find that taking on this role is easier than you may have imagined.
We're here for you if you have questions. Don't hesitate to reach out!