Making a calendar of events available online for visitors to your website benefits your organization in multiple ways. For one thing, it helps people who are looking to schedule an event answer some of their own questions about space availability. Not only does this cut down on the inquiries you get, it produces a positive user experience—people love being able to get information just by clicking on a calendar link!
Having your public calendar online is also a powerful way to market your events. When those outside your organization see all the activities taking place it's a great way to raise awareness of all the great things you do for your community. And, if there are multiple sources of event information within your organization, a web-based calendar is an excellent place to pull them all together.
The Benefits of Integrating Your Web Calendar and Scheduling Systems
In its simplest form, an online calendar is just a web page with displaying event information. You could create one manually if you wanted to. But that would require updating it every time a new event is added or an existing one is modified.
A much more efficient approach is to integrate your calendar with your room scheduling software. That way, entries only have to be made once. Integration saves time and can also help minimize errors, since the more times something must be typed, the more chances there are for a mistake.
And, when these systems are integrated, changes in your event scheduling solution are automatically updated on the calendar in real time.
Key Considerations for Publishing Event Information on the Web
Here are some useful techniques to help you get the most out of your public event calendar. While these techniques can apply to any calendar system, Mazévo makes it easy to apply these techniques with its built-in public calendar.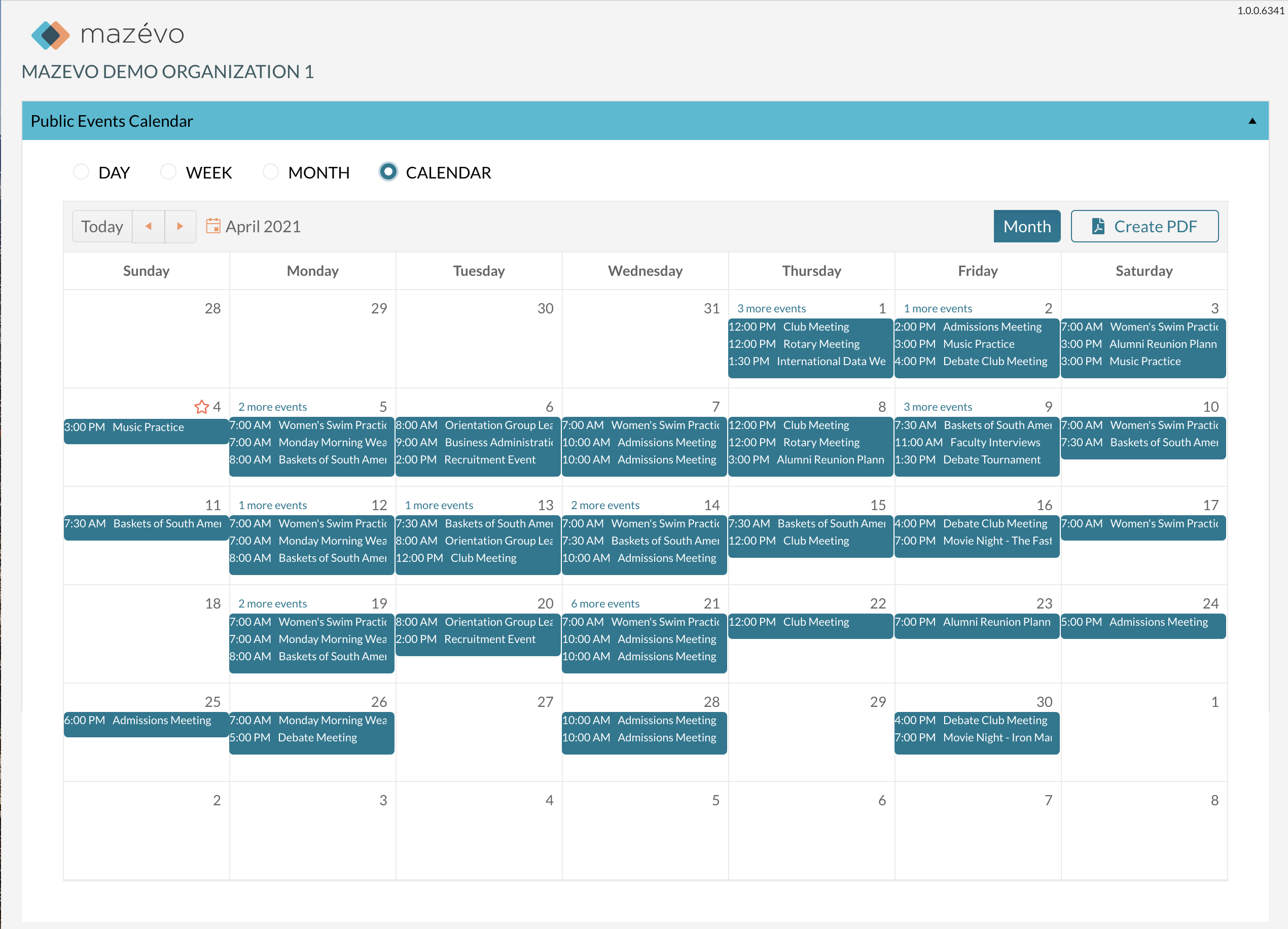 Information displayed
Think through the type of information you would like to display with your events. While not every event requires all this detail these items can be helpful for event attendees.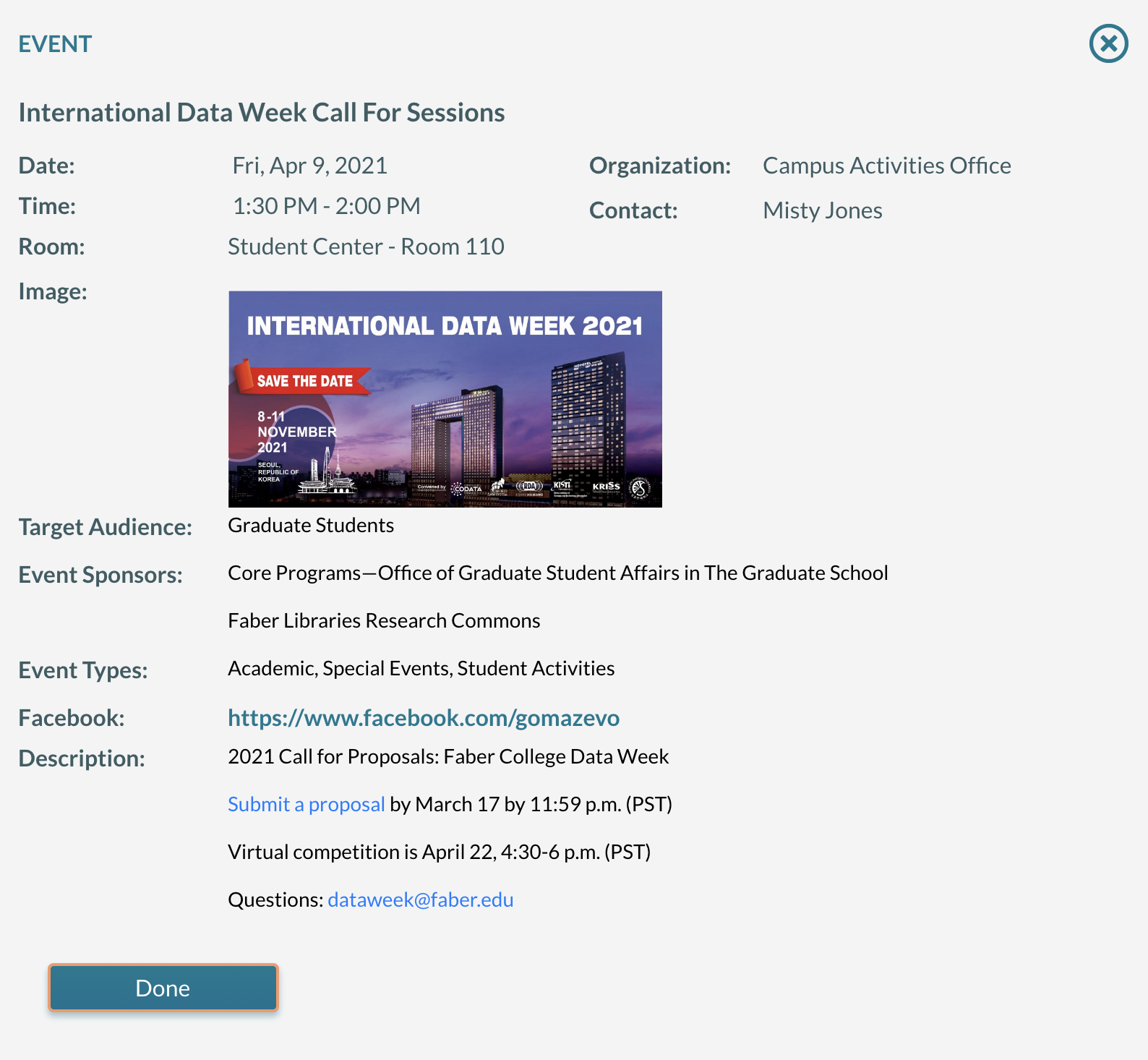 Date, time, and location

Organization and contact

Event description

Links to event social media pages

Description of the intended audience

Event sponsor

Event type

Map

Link to the registration page

Contact information

Promotional image (a photo of a featured speaker, for example)
Multiple calendars for busy organizations
If your organization hosts a large number of events, you'll want to consider how to make it easy for interested parties to find the information they're looking for. One approach is to have multiple calendars, with each focused on a different audience or topic.
For example, you could have a unique calendar for each building on your campus. Or you could create calendars for different types of events—performing arts, sports, lectures, etc.
Some Mazévo users also like to create a separate calendar for "major events," meaning those that exceed a certain attendance threshold or have major importance to their organization. Allowing calendar users to identify days on which large events are being held enables them to quickly turn their attention to other dates if they want to avoid parking issues, etc.
Calendar or list view
Another decision to make is whether you want a calendar to be displayed in traditional monthly calendar format or list format. The familiar calendar view enables users to quickly determine where an event falls within a month or week. It's best if you have a small number of events.
List view is a good choice if you tend to have more events each day than can fit on a calendar square.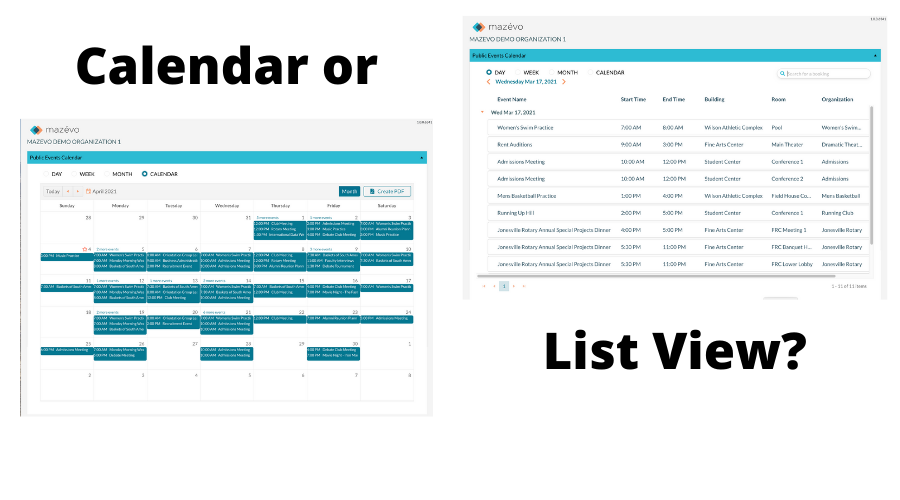 Private events
If you're hosting an invitation-only event, it's often best not to publish detailed information about it. For example, if a wedding reception is being held in your ballroom, you may not want to advertise that fact and then have to deal with uninvited "guests." Mazevo allows you to mark events as "private" so that their details aren't displayed.
The Event Book: Another View of Your Events

Another way to review event information is with a graphical grid view of your facilities. In general this is for use by those within your organization, and most often by your scheduling team. The Event Book shows events as colored bars on a room/time grid and is one of the easiest ways to check the availability of specific spaces. Offering this as another option to view your activities and room availability can help those who are planning events.
Show 'Em Your Stuff!
Making event information available online benefits everyone involved: event hosts and attendees, your crew, and other stakeholders within and outside of your organization. And when you integrate your event scheduling system and your event calendar to automate the publishing of events, it makes it that much easier to show 'em your stuff!
If you have questions about Mazévo's event scheduling and calendaring capabilities, we're here to answer them! Call 800-254-7615 or schedule an informative online demo.