It's important to get every service you provide to customers right, but probably none more than a catering service. Leave people hungry, thirsty, or simply unhappy about some aspect of their food and beverage needs, and you're sure to hear about it!
That's why you need an event scheduling system with comprehensive and intuitive catering functionality. And that's true even if you use a large third-party caterer like Sodexo or Aramark. It's very helpful for your team to be able to note that an event has catering since that may affect how you prepare for and manage the event.
Simple Snack Services to Complex, Multi-Course Banquets
In order to manage catering services effectively, you need a system designed for everything from a simple service with a few beverage and snack options for attendees to help themselves to during a break, to a large banquet with cocktails, hors d'oeuvres, and plated dining. Your scheduling system has to handle either—and everything in between—with equal ease and efficiency.
Catering Input, Updates, and Oversight
Mazévo's catering functionally covers the full spectrum. First, the system allows you to define your entire menu, complete with resource groupings (Breakfast Items, Snack Boxes, Beverages, etc.) and detailed item descriptions to make it easy to find what you're looking for.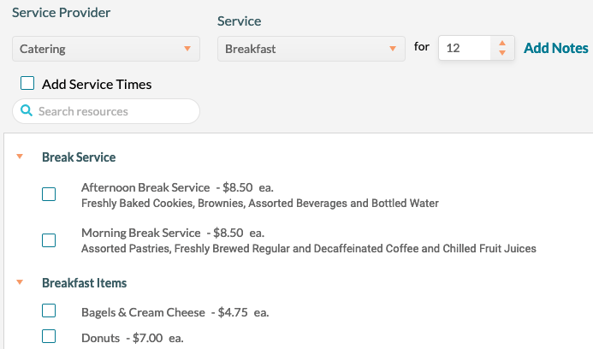 Then, Mazévo includes all the features necessary to create, update, and oversee catering services, including:
Online requests.

Enabling customers to submit online catering requests maximizes convenience for them and efficiency for you.

Streamlined communication.

The ability to generate detailed quotes and confirmations ensures that you and your customers are on the same page about what they need, what it will cost, and what you're planning to deliver.

Detailed event and banquet orders.

Confusion about what's required for a catering service can lead to delays and mistakes. Being able to generate orders that clearly spell out the food, beverage, and related setup requirements for an event ensures your crew has the information they need, whenever and wherever they need it.

Room setup diagrams.

Nothing makes it clearer how a room should look for an event than a room setup diagram, which the system allows you to store with an event.

Other event information.

Catering services don't occur "in a vacuum." Mazévo serves as a single, centralized source of information about an event, including details on general setup, other services (like A/V), etc.

Resource Usage report.

Knowing what catering items have been requested for a specific event isn't helpful if you don't have the quantities on hand to meet those needs! Being able to run the Resource Usage report to see quantities requested and also a helpful usage graph is crucial.

All-inclusive invoicing.

After an event, Mazévo makes it easy to generate an invoice that includes all charges, including catering costs.
Staying Current on Catering Services Is Key
Anyone who has ever managed catered events knows they change frequently. From adding or deleting menu items to tweaking service times, it's very common that modifications are made throughout the run-up to an event.
Mazévo makes it easy for operations staff to stay on top of catering needs and other requirements as well. The Review Events function produces a list of events for a specific date, with the ability to click on an event to expand it and show all its details. This includes an indication of whether or not the event has been reviewed.
Scalable, Cost-Effective, Stress-Free Catering Management
Whether you coordinate a few catered events each month or dozens per week, Mazévo can handle any volume of food and beverage services. And, as a web-based scheduling solution with no need for a special onsite server, software installs and updates, etc., the system is very cost-effective.
Those factors, along with the Mazévo's powerful and intuitive catering management features, effectively eliminate the stress of coordinating catering services and empower you to execute flawless events every time.