When was the last time you remodeled your facilities? If this was relatively recently, you probably added, or at least considered adding, digital signage outside your meeting rooms.
Not long ago, posting a piece of paper outside of a meeting room with the day's schedule was the only option to display what was happening in the space.
With prices on electronic devices continuing to come down every year and more options available, such signs have become more popular than ever in meeting and event facilities of all sizes.
Today we'll cover how digital signage makes life easier for staff and guests that use your facilities and how Mazévo has been designed from the ground up to work with digital signage of all types, including our newest integration with the IAdea Interactive Room Panels.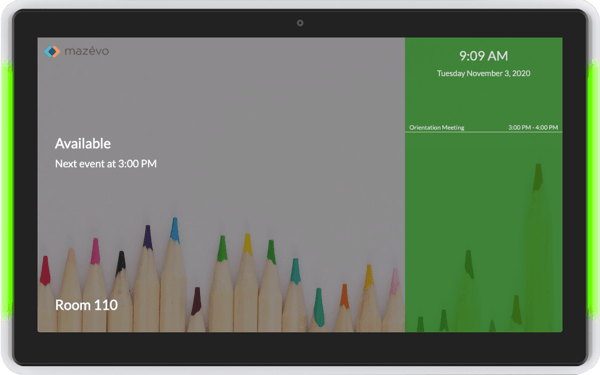 Why Digital Room Signs are Important
With digital signs outside the room, you have a modern way to keep anyone using your facility in the know about what is happening in each space. Integrating the device with your room scheduling system means that events are displayed on the sign as soon as they are added or changed.
The digital display can also be interactive so people can get more information about the meetings taking place and even book the room right from the room sign.
Typically, other indicators, such as LED lights on the sign itself, make it easy to see if a room is in use even from a distance. Looking down a corridor and seeing what facilities are open not only looks nice but is also much more convenient than walking up to each room to see what is going on.
This is why we recently integrated the Mazévo room sign with the IAdea Interactive Room Panels. IAdea is a recognized pioneer in the global digital signage market since 2000. We especially liked the innovative way they integrated colored LED lights into the design of the sign.
The IAdea room signs are mounted outside the door of a meeting room and display what's happening throughout the day. They have several attributes that make them an excellent option for your room sign.
Interactive touch screen
Appealing mounting options
Supports Power Over Ethernet, so a single cable supplies power and connectivity.
LED lights on the side of the sign
The LED lights enable you to see from a distance if the room is free (green) or in use (red) without having to walk up to the sign.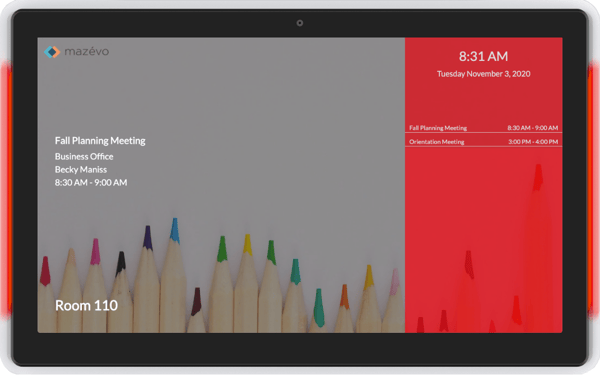 How Digital Room Signs Work with Mazévo
You can connect Mazévo directly to your room sign from a web URL. Once connected to the digital room panel, Mazévo automatically updates the sign with booking information throughout the day. You can also brand the displays with a custom background image and your organization's logo.
Want to learn more about integration with the IAdea displays or other digital room signs? Contact us today to find out more.